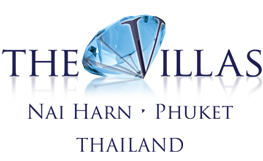 Welcome to The Villas – Sophisticated villas in a tropical sanctuary
'The Villas' is a collection of individually owned, private pool holiday homes located in Nai Harn, Phuket, designed exclusively for large groups or extended families wanting to share a holiday experience. Ideal for events, such as Weddings, anniversaries, birthdays, Corporate and Health retreats and family or group reunions.
Located close to Nai Harn beach, which has consistently been voted the NUMBER ONE beach in Phuket and the 6th best beach in Asia, by Trip Advisor, and with easy access to tourist activities, out laying Islands and a selection of many other beautiful beaches. The villas are also conveniently located close to a wide selection of restaurants, bars, massage palours, shops and convenience stores/supermarkets.
Stunning Locations...
A selection of 20 private pool villas. 16 villas are situated within an exclusive development located around 1km from Nai Harn beach in a tranquil valley with hillside and jungle views. Four further luxury villas are found in separate developments: Diamond View and Turquoise Villas are located in a quiet development overlooking Rawai Beach and out to sea. Villa Maria is nestled between a coconut grove and a rubber plantation, and Andaman View on a hillside overlooking the Nai Harn and the Andaman Sea. The 20 villas ranging from 3 – 9 bedrooms, and accommodating from 7 to 25 guests, are available for short-term holiday rentals, and all come with a full-time daily housekeeper, and options for a cook, child minder and driver, if required.
Outdoor Living...
'The Villas' offer private infinity edge swimming pools with integral Jacuzzis, surrounded by attractive sundecks, complete with comfortable sunbeds. Adjacent to the tranquility of the swimming pools are the salas, ideal for outside evening dining or daytime BBQ (all villas come complete with gas BBQ). All villas offer a comprehensive in-house BBQ Menu, that guests are invited to select from, and the cook can prepare a delicious meal for you. The villas provide the option of a swimming pool safety fence, designed to deter small children from entering the swimming pool unsupervised.
Follow Us:  



Share This:  







For Properties Exclusively Managed by The Villas, take a look at the Premier Selections Below