The Villas, Nai Harn Phuket – Our Team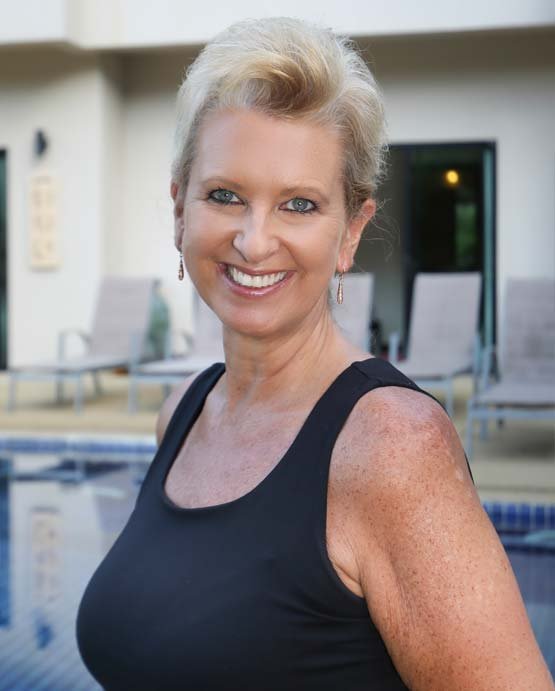 Managing Director - The Villas
Tracey Samantha Burr
Tracey is an English woman who has lived in Phuket for almost 17 years, and in Asia for 27 years. She has a background in purchasing, human resources and events management. Her extensive local knowledge and considerable experience of managing villas, during the last 12 years, distinguishes her as a distinctive leader at the helm of The Villas.
As a mother, who raised her children in Asia, Tracey is also fully aware of the needs of families, safety, security and the requirements of all guests when they are traveling abroad.
Tracey's goal is to ensure that all guests who stay at The Villas have a memorable and relaxing holiday, with every aspect of their stay taken care of. As Managing Director of her devoted team, guests can be assured of everyone's committment to be attentive and caring with a willingness to always go above and beyond.
email: [email protected] Telephone/WhatsApp +66 (0) 81 906 2596
Villa and SHA+ Manager / Accounts Manager - The Villas
Khun Muk
Muk is dedicated to maintaining the condition and beauty of each villa and the smooth running of everything at The Villas on a daily basis and during guests' stay.
As SHA+ Manager, Muk ensures the Safety and Health Administration hygiene levels are maintained in accordance with the Tourism Authority of Thailand and the World Health Organisation.  Muk's role is to ensure all staff comply with the stipulated regulations and our guests are also fully aware of travel restrictions and the latest Covid Safe information within Thailand, reporting back to the SHA on any contraventions.
As Villa Manager, Muk is supported by a hand-selected local team, consisting of one housekeeper per villa, gardeners, swimming pool and maintenance contractors and engineers. This Team is committed to the important job of ensuring everything is in working order, maintained well and any repair work carried out speedily.
If any problems at the villa occur, maintenance issues arise, any support or assistance is required, then Muk is in charge of overseeing and giving instruction for any repair work to be completed and ordering contractor jobs. Muk will provide feedback to housekeepers or guests directly on any outstanding matters.
Muk is responsible for arranging for baby cots, high chairs and swimming pool safety fences to be erected, to ensure guests of all ages are comfortable and catered for on arrival.
As Accounts Manager, Muk collects outstanding payment from guests, pays staff salaries and is responsible for financial accounts and bill payments. She has an important role, which she carries out effortlessly, with a friendly smile and a constant willingness to assist.
Email: [email protected]  Telephone/WhatsApp: +66 (0) 89 874 8925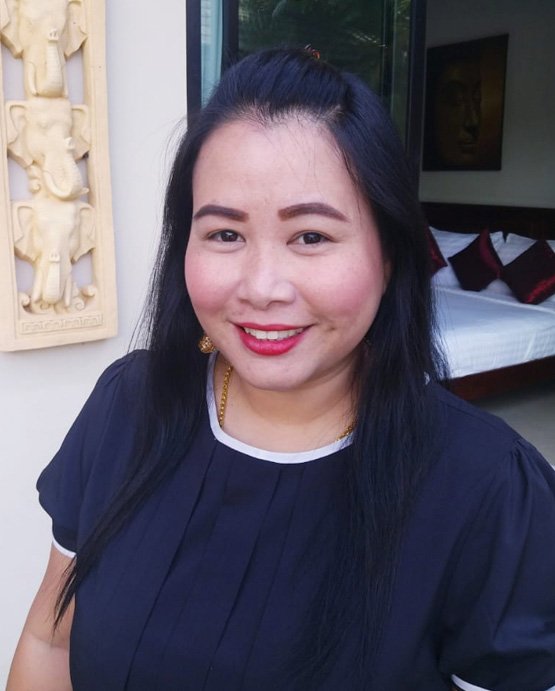 Guest Relations, Tour and Transportation Manager – The Villas
Khun View
K.View is the main point of contact once guests have arrived on the Island, she is dedicated to arranging their airport transfers, including stops for lunch and shopping on the way to the villa, in order to purchase any essential supplies.
K.View is responsible for Checking In and Checking Out our guests and endeavours to ensure everything runs smoothly during their stay.  As Guest Relations Manger, she liaises between guests and housekeepers with regards to meals and any special requests, such as Birthday cakes, decorations and any special items to be purchased prior to guests arrival, such as that all important cold beer!
If there are any outstanding rental payments or advances for groceries and vehicle rental (car or motorbike hire), or utility costs, then payment is made to K. View; and she also has the unenviable job of collecting payments when damage or breakages occur at the villas
K.View will communicate with minivan drivers, relaying guests requirements throughout their stay, arranging transportation, such as daily minivan rental with experienced drivers or taxi services as required.
If guests wish to arrange Tourist Activities during their holiday, K. View provides an in-house Tourist Activities Guide to make selections from.  K. View has considerable experience working in Phuket, so can offer visitors a comprehensive list of activities they may wish to participate in during their stay.
View can be contacted directly to arrange activities in advance of guests arrival, and is happy to make recommendations and give advice and support when deciding on the most suitable alternatives to choose and arranging itineraries to make best use of holiday time.
Everyone who stays with us receives personal attention, to ensure you are relieved of any worries and enjoy your time in Phuket.
Email: [email protected] Telephone/WhatsApp: +66 (0) 95 018 8858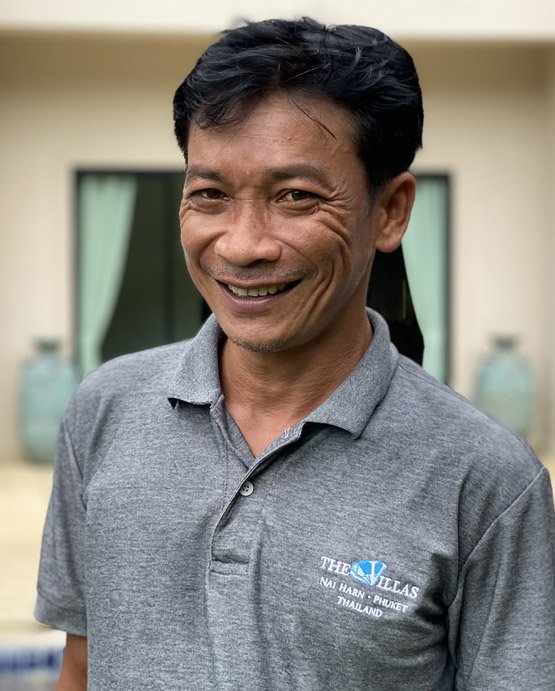 Engineer and Swimming Pool Management - The Villas
Khun Neung
Neung is responsible for in house engineering and villa maintenance. We strive to ensure everything is in perfect working condition at The Villas at all times, but should there be a problem, Neung is always on hand to make repairs.  As a plumber and electrician, Neung takes care of any day to day issues, and as a dedicated handyman, he guarantees everything is in good working order or quickly repaired.
Neung also oversees the cleaning and maintenance of each villas swimming pool, checking the water system, chemical level and cleanliness daily.
Neung works closely with each villas housekeeper, committed to keeping The Villas in good condition, providing a high quality service ensuring everything is always in excellent working order for guests to enjoy.  With this in mind, you may see Neung in and around the villa during your stay, although he is as unobtrusive as possible, respecting guests privacy at all times.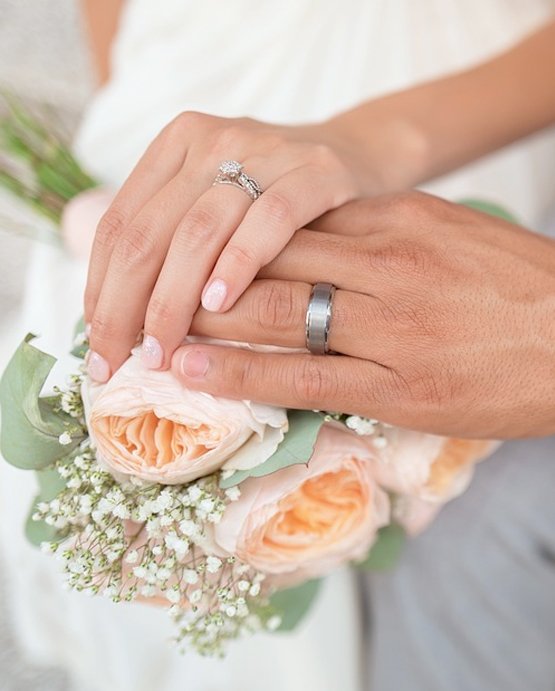 Wedding & Events Planner – The Villas
Our Events Manager at The Villas has extensive experience in arranging events, ranging from Corporate Retreats with full Itineraries packed full of in-house and outside tourist activities to Western and Thai Wedding ceremonies, family celebrations and reunions, anniversaries and birthday parties.
In recent years we, at The Villas, have successfully arranged a substantial number of beautiful events from simple dinners to elaborate celebrations, and we are dedicated to ensuring all events run smoothly and are as memorable and enjoyable as possible.
We appreciate that it can quickly become confusing or overwhelming arranging events or activities when you are far from home, and when co-ordinating large groups, this is where an events planner becomes indispensable. We are very familiar with everything Phuket has to offer to its visitors, and can therefore provide guests with exceptional support and options to completely fit their needs and budget.

Our 'Pink Ladies'
Affectionately called our "Pink Ladies" - the villas housekeepers are individually recruited from caring, native Thais. Forming our own "family" of lovely ladies who are dedicated to providing a warm Thai welcome to everyone who visit the villas. With distinctive enthusiam and spirit our ladies will endeavour to do everything to ensure you a wonderful stay and memorable experience. Nothing is too much trouble and all delivered with a warm Thai smile.
Follow Us:  



Share This: