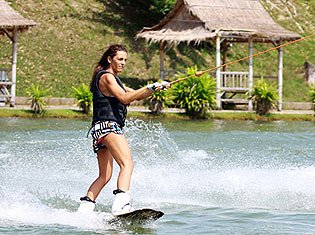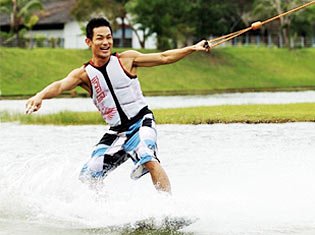 Cable Skiing - Phuket Wake Park, Kathu
Located near Kathu waterfall, surrounded by palm trees and lush vegetation, Phuket Wake Park offers a place for absolute beginners right up to experienced skiers to learn wake boarding and cable skiing, under the guidance of friendly and professional staff. First opened in 1997, Phuket Wake Park has the benefit of being open all year round to practice your skills on the specially designed lake, which is 410 metres long, 110 metres wide and 2 metres deep. It is fed by the fresh water from the mountain streams of Kathu waterfall just up the valley. It features 13 unit obstacles for the more experienced, fitness zone, pro and hire shop and other facilities such as a swimming pool, massage facilities, sun loungers, bar, restaurant and roof terrace with spectacular view, so non skiers can also enjoy a day out.
The skiers are towed by a German-built ski-drag, an electric motor powered overhead tow cable stretching all the way round the course that has a pylon at each of the four corners and a cable speed of 30 kilometres per hour.
There is no charge for lessons, you purchase a ticket on the day required, for anything from 30 minutes to a full day, and the experienced staff are on hand to give you advice and encouragement, while maintaining your safety.
Included are board, life jacket and helmet.
Follow Us:  



Share This: