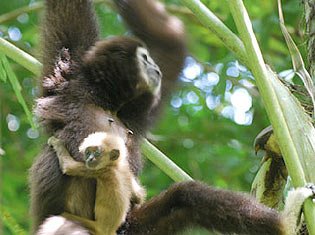 Monkeys in Phuket
If you wish to visit Monkeys while you are staying in Phuket, we recommend seeing them in the wild, in their natural habitat and living happily and free. There are many monkey "shows" across the Island, but like all wild animals who have been tamed and taught to perform unnaturally, this is not completed in a humane way, and the animals suffer as a result of the treatment they receive.
If you wish to see monkeys, it is most enjoyable to see them living in the wild, rearing their young and living as nature intended. With this in mind, we recommend visiting one of the most popular "Look outs" in Phuket - Rang Hill, in Phuket Town. You may also see monkeys at various beaches throughout Phuket and on surrounding outlaying islands, particularly if you visit Phi Phi, join the John Grey Sea Canoe Tour or trek in any of the hills behind the local beaches.
RANG HILL
Rang Hill is one of the highest points on the Island and is a look out set in the tropical jungle and forest, high up on the hill above Phuket Town. Not only does it offer beautiful views across Phuket Town and the South of the Island, but is has a delicious Thai Restaurant, with some of the best Thai dishes to select from, and there are families of monkeys living and roaming freely. Naturally tame, they can be fed treats sold by local vendors and allow you to get close enough to take photographs of them as they play and observe.
Our Tour Manager can arrange trip to visit Rang Hill to see the monkeys and enjoy lunch and the views, and this can also be combined with other sight seeing venues, if you wish to make a whole day trip.
GIBBON REHABILITATION
We have a page dedicated to the Gibbon rehabilitation Centre, located in Khao Pra Theaw Non–Hunting Area at the Bang Pae Waterfall

Follow Us:  



Share This: