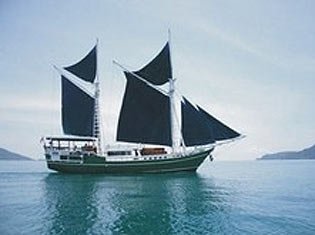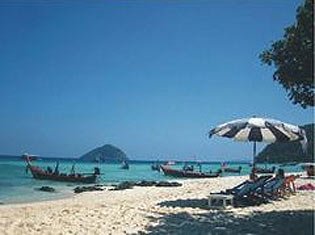 Island Trips
RECOMMENDED: CORAL ISLAND (or others) by LONG TAIL BOAT
The thrill of travelling to one of Phuket's many outlaying islands by "long tail boat" is an inexpensive and exciting way to experience how many Thai people travel on the water. The long wooden boats, powered by a single petrol engine driving a large propeller attached to a long "tail" easily glide through the water taking you to many destinations off the shores of Phuket. There is the option of booking a day trip on a long tail boat through one of the many Tour Companies in Phuket, or for guests at The Villas, we can arrange a long tail boat directly with the operators at Rawai Beach.
Rawai Beach is located within a few minutes drive of the Villas, and is lined with long tail boats and single and twin engine speedboats. You have the choice of either boat, but the long tail boats are considerably less in daily rental price than speed boats and are recommended for parties of older children and adults.
If you wish to experience the water and Coral Island by SPEED BOAT or on a DAY CRUISE,
please see further details below, after long tail boat options
.
The recommended destination by LONG TAIL BOAT is Coral Island, as this has two beaches to choose from, "Long Beach" and "Banana Beach", both offering beautiful long stretches of sand, sun beds and deck chairs, restaurants and toilets, plus a designated area for swimming and snorkelling in crystal clear water.
1 long tail boat from Rawai Beach costs approximately 1,500 Baht (depending on Season) and holds a maximum of 8 people.
BANANA BEACH - Coral Island:
If you wish to opt for a more economical or local option, we recommend visiting RAWAI BEACH, just a 5 minute drive from The Villas, and taking a speed boat or long tail boat from the beach to one of the many outlaying islands.
Our recommendation is to visit Banana Beach on Coral Island:
No visit to Phuket can be complete without taking a boat trip to Banana Beach, whether you choose a day trip arranged through our Tour Manager or directly with Banana Beach, or you decide to rent a long tail boat or speed boat your selves, this beach should not be missed. Coral Island is a 15 minute speed boat ride, or 30 minute long tail boat ride from Rawai Beach, and with two popular beaches and some hidden gems, you will enjoy the natural beauty, aquamarine waters, beautiful scenery and a perfect sunset ride back to Phuket.
Contact:
44/1 Moo 5, Viset road, Rawai, Mung, Phuket, Thailand 83130
Reservations : 081 4167555 Or Booking
FAX : 076 281113
email: [email protected]
http://www.bananabeachkohhey.com/
7 Best ISLANDS AROUND PHUKET
1. Phi Phi
One of the most famous and popular islands to visit, made up of a small archipelago of 6 islands, the largest of which is Koh Phi Phi Don, and this is the only inhabited Island. This island features three main areas, offering resorts, shops, restaurants and stunning scenery, beautiful bays and tranquil jungle retreats.
For further information and everything you need to know if you are planning a day trip or overnight stay to Phi Phi: http://www.phuket.com/island/phiphi.htm
There is a daily ferry to and from Phi Phi: https://www.phuketferry.com/
Or you can speak to our Tour Manager about private or join in day trips and the options to consider. Options include departing from Chalong and Rawai Beach, only a few minutes from The Villas.
2. Similan Islands
The Similan Islands (derived from the Malay sembilan, meaning "nine") are a collection of nine Islands located 84 kilometres northwest of Phuket and part of the protected Marine National Park. Primarily attracting divers and snorkelers, who wish to visit one of the Top 10 Best Dive Sites in the World, the Similans can be visited on a day trip, overnight or for a few days, staying at one of the small bungalows designed to accommodate longer staying guests.
The unique appeal of the Similan Island is not just the stunning underwater wonders, but also the curious piles of large stones, scattered along the western and southern shores. The beautiful white sand beaches, aquamarine waters, canyons, caves and picturesque scenery are well worth the journey north on land, and then boat trip. For further information about the Similan Islands and options to consider on when and how to visit, contact our Tour Manager and review details on line: http://www.phuket.com/island/similans.htm
The Similan Islands are officially open to the public annually from around mid-October to mid-May, but this can vary according to weather, so please check with our Tour Manager if you are interested in visiting.
3. Racha Islands
located around 12 kilometres off the south of Phuket, and easily accessible by speed boat from Rawai Beach or on a day trip from Chalong Pier. Comprising of Racha Yai and Racha Noi ("large" and "small" Islands), these two islands are particularly appealing to divers and snorkelers, but are also very popular with non-divers wishing to enjoy the stunning beauty of the clear waters and lush tropical island. Racha Yai offers accommodation if you wish to stay overnight, including transfers from Chalong Pier.
Perfect for a day trip, and offering a perfect island getaway, please contact our Tour Manager for details on how to arrange a visit, and for further information, check on-line; http://www.phuket.com/island/racha.htm
4. Coral Island
is a small Island conveniently located just 5 kilometres off Phuket's south-western coast, and easily accessible by long tail or speed boat from Rawai Beach, just a few minutes driver from The Villas. A recommended day trip for anyone visiting Phuket, further details are given above.
CoraI Island has two beaches, Long Beach and Banana Beach, and large restaurants, shop, toilet facilities, massage ladies and a range of sports activities, such as banana boats, canoes, parasailing, snorkeling. It is possible to walk between the two beaches, taking about 15 minutes, but you are advised to wear suitable shoes and due to the uneven path, it is not advised for children or the elderly.
5. Koh Yao Yai and Koh Yao Noi
are two large islands located between Phuket and Krabi, in the middle of picturesque Phang Nga Bay, off the north-eastern coast of Phuket. Surprising large islands, they can be accessed by long-tail boats from Bang Rong Pier on Phuket's east coast, running three times daily, or private long-tail boats can be rented from Ao Po Pier.
The "large" and "small" Koh Yao Islands do not boast any specific landmarks or attractions, but they are a good example of the simplicity of life and how things have changed very little in the past 20 years. This unspoiled paradise has quiet roads, wooden houses, buffalos basking in mud baths, rice paddy fields, rubber plantations and mangrove trees - a perfect escape from the tourism and bustling life on Phuket Island.
If you wish to extend your stay on the Islands, we recommend the Paradise Resort on Koh Yao Noi for idyllic accommodation overlooking Phang Nga Bay. The resort offers a selection of rooms and villas to suit all budgets, can arrange private transfer from the Yacht Haven at the north of Phuket Island and will ensure a memorable visit to the unspoiled tropical haven.
Contact:
24 Moo 4, Koh Yao Noi, Ko Yao District,
Phang-nga 82160
Tel: +66 (0)76 584 450
Email: [email protected]
https://www.paradise-kohyao.com/
6. Koh Khao Islands
are two small islands located off the east coast of Phuket, less than a 30 minute speed boat ride from the Boat Lagoon or Royal Phuket Marina. Koh Khao Nok (Egg Island) is the larger of the two islands, although still only about the size of a football pitch, but with a rocky headland, white sandy beach and a large selection of exotic tropical fish. Both islands are uninhabited, but offer restaurants, bars, sun beds and parasols, so a perfect destination for those guests wanting to experience a tropical island getaway.
For further information on how to arrange a trip to the Islands, may be combines with other destinations, please contact our Tour Manager, who will suggest the best itinerary and two to incorporate a visit to make the best use of your time.
7. Koh Bon
is the closet Island to Phuket, situated only two kilometers from Rawai Beach, so if you wish to visit one of the regions tropical Islands, but do not want to travel too far, then 15 minutes on a long tail boat is all you need to spend to get there. This idyllic island is 3,500 sqm, has two beaches, a picturesque rocky headland, lush vegetation and a convenient restaurant making it the perfect destination for a day on the beach with a difference. This unspoiled island attracts guests wishing to escape the more popular beaches on Phuket Island, particularly if working within short time parameters.
A long tail boat can be rented from Rawai Beach for around 600 THB each way, and can be arrange directly or our Tour Manager or Guest Relations Manager will be happy to assist.
JAMES BOND ISLAND:
 We have a whole page devoted to this famous island... read more
Follow Us:  



Share This: