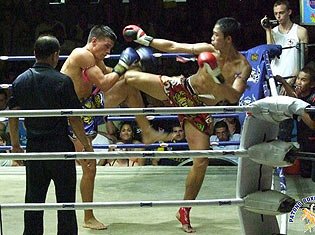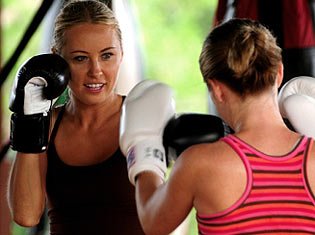 Thai Boxing
Thai Boxing, or "Muay Thai" as it is known by the Thai people, is the traditional art of self–defense and the national sport of Thailand. It's origins date back to the 15th Century when it was used as one of the battlefield combat methods of the Siamese (ancient Thai) army when defending Thailand against the Burmese. Since then it has evolved through the centuries to become the popular and demanding sport of today. Within the sport any part of the body is allowed for striking the opponent, except use of the head, and punching is considered the weakest of blows. Generally kicking is used to "soften" the fighters and a fight will end with an elbow or knee blow.
In Phuket you have the option to watch Thai Boxing shows, or you can train and learn how to actually Thai Box yourself. Our recommended suggestions for both options are listed below:
THAI BOXING SHOWS:
Thai boxing is different from international boxing in that the Thai style of unarmed fighting, involves the use of feet, elbows and knees, as well as fists. Fighters appear agile and the fights resemble a free for all fight, unlike international boxing where only the fists are used. Fights consist of five rounds of three minutes each.
PATONG BOXING STADIUM
Patong Boxing Stadium is considered the No. 1 Stadium in Southern Thailand and centrally located in Patong hold Thai Boxing matches every Monday and Thursday nights, starting at 21:00.
Contact:
SALA THAI BOXING: BANGLA ROAD, PATONG
If you are out in Patong for a night out, and just wish to sample a taste of Thai boxing, then pay a visit to the Sala Thai Boxing at the top of Bangla Road, close to the Tiger Complex. This arena is home to fighters giving demonstrations of the sport to tourists, so who are not actually fighting, but do hit each other hard enough to make it look real.
Sala Thai boxing is free to enter, and is open every night, so worth a visit if you have never seen the sport before. Usually you will be asked to purchase drinks between fights, that may cost a little more than other bars, and the fighters will often come through the audience after a fight hoping for tips.
PHUKET BOXING STADIUM: SUWIT GYM, CHALONG
If you are a real Muay Thai fan, then you may wish to visit the only real venue for serious fighters in Phuket, although the original stadium was located in Saparn–Hin, near Phuket Town, this was destroyed in the 2004 Tsunami, and the venue changed to Suwit Gym in between Chalong and Phuket Town, with Thai Boxing competitions arranged every Friday night from 20:30 to 23:30.
If you are interested in watching a Muay Thai fight, contact the Phuket Boxing Stadium to arrange tickets and free transfer from The Villas.
Also, if you are a would be competitor and would like the opportunity to fight in a real boxing competition during your time here, please contact Phuket Boxing Stadium for more information.
Contact:
THAI BOXING TRAINING / LEARNING:
Many of the Muay Thai training camps are located in and around the Nai Harn, Rawai and Chalong area, so if you wan to learn the National Sport of Thailand, you have certainly come to the best place:
SINBI MUAY THAI GYM
Located on the road heading to Kata from Nai Harn, a few minutes from The Villas, Sinbi Muay Thai is an impressive gym, with exceptionally high quality facilities and world class trainers who are all hand picked champions in the sport.
Contact:
Sinbi Muay Thai
100/15 Moo 7, Saiyuan Road
Rawai, Muang, Phuket
Thailand 83130
Tel: + 66 (0)86 947 5431 - Dave (English)
+ 66 (0)83 392 5535 - Sing (Thai, English)
www.sinbi-muaythai.com/contact
Comprehensive training schedules have been designed for both the morning sessions commencing at 7:30am or the afternoons, starting at 16:00.
Visit the gym's website for full information on their training schedules and trainers: Sinbi Training Schedules
Accommodation is available in different standards of rooms if required, so consult the website for further information: Accomodation Information
Follow Us:  



Share This: