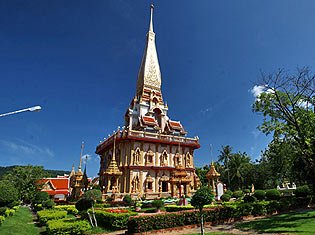 Temples
The majority of Phuket's local population is Buddhist, many people practicing Daoism, usually in conjunction with Buddhism, due to the large number of Chinese immigrants who came to work in Phuket's tin mines during the 19th Century. The remainder of the population, making up about 35 percent, are Muslim, and they tend to populate specific locations throughout the Island. With this in mind, there are many Buddhist Wats (where the monks and nuns live) and smaller Shrines, Chinese Shrines, Muslim Mosques and also Hindu and Sikh temples and Christian churches across Phuket. Although Phuket is now home to many different nationalities, and it is subjected to considerable foreign influences, the Island's temples allow local inhabitants and visitors to remain in touch with religious and cultural backgrounds. Whatever your religious belief, a visit to any of Phuket's Temples can be an uplifting experience.
WATS (Buddhist Temples):
Phuket's population has a large percentage of Thai–Buddhist, therefore you will find around 30 Buddhist Temples (or 'Wat' in Thai) across the island. Ranging in size, degree of elaborate decoration, and age (some are relatively new and others date back over 100 years), all are beautiful and even a short visit enables you to appreciate their importance within Phuket's heritage.
Such places include Wat Pra–nang Sang and Wat Srisoonthorn in Thalang, Wat Karon and the most famous Wat in Phuket, Wat Chalong.
WAT CHALONG:
Wat Chalong is over 100 years old, and is the largest and most ornate Wat on the Island, open from 7am to 5pm, it welcomes visitors throughout the day to learn a little about Buddhism, or locals to come and pray. The architecture is typical of Wats and is attributed to the two revered monks Luang Pho Chaem and Luang Pho Chuang, both of whom were famous for there work in herbal medicine and tending to the injured, particularly during the 1876 rebellion of the tin miners. Both monks were ex-abbots of the temple and one of the temple's halls features gilt-covered statues of them and a third ex-abbot, along with a splinter of Lord Buddha's bone. The pagoda is decorated with wall paintings depicting the Buddha's life story and also features various Buddha images.
There is also an air-conditioned 'exhibition home' of Luang Poh Cham featuring lifelike human-sized wax models of the famous monks, along with antique Thai furniture, and Thai porcelain designed in five colours, plus Luang Poh Chaem's famous 'magic' walking-stick.
When you visit Wat Chalong, you will usually hear the loud sound of firecrackers and see people hanging and igniting strings of Chinese firecrackers in beehive-shaped "ovens" near the Wat's sermon hall, this is done to show gratitude for prayers that have been answered or ask for the lucky lottery numbers, but whatever the reason, the sound is extremely loud and can startle visitors if you are not prepared for the noise.
You can also have your fortune told be picking up one of the cans just inside the main hall, shaking it back and forth rhythmically until one of the sticks works its way to the top and falls to the floor, then after reading the number, walk around the corner to the right and open the drawer of the corresponding number in the wooden cabinet on the wall and remove a slip of paper, bring it back to The Villas and we will happily translate it to tell you your fortune.
It is also widely believed by the Thais that receiving a string tied round the wrist from one of the monks is a good luck charm to protect them from injury and illness. Tourists can also participate in this ritual, but remember the monks are forbidden to touch women so only the men in your party can actually receive the string directly from the monks, the ladies will have to have it tied on by the men in their group.
From the Chalong traffic circle, take the bypass road towards Central Festival and the airport and Wat Chalong is 2 kms further on, on the right.
ELEPHANT SHRINE AT PROMTHEP CAPE (HINDU SHRINE):
Located a few minutes from The Villas, at Promthep Cape, the southern–most point of Phuket, is a Hindu Shrine to the deity Brahma. This shrine containing thousands of elephants of various sizes, which are presented when requesting a wish or as a thanksgiving for one that has been granted. Visitors are welcome to offer incense to the elephants or approach the "God", but if entering the circle of the shine, shoes must be removed as a sign or respect.
"Phrom" is Thai for the Hindu term, "Brahma," signifying purity, and "Thep" means "God",
hence Promthep Cape received its name.
CHINESE SHRINES:
Predominantly a mixture of Buddhism and beliefs of Chinese Taoist gods, Phuket's large percentage of Chinese residents have built a number of Chinese temples and shrines around the island. The main colours are red and yellow, and animals such as dragons, lions and monkeys are important symbols.
Many of the Chinese shrines are found in and around Phuket Town, as there is still a strong Chinese community to be found there, but some of the larger shrines across the Island include, Jui Tui Chinese Temple, Put Jaw Chinese Temple, Shrine of the Serene Light (Thalang), Boon Kaw Kong Shrine (Phuket–Patong road), Tha Rua Chinese Shrine (near the Heroine's monument) and Hok Nguan Kung Shrine.
The most recognised celebration of the Chinese Taoists is the yearly Vegetarian Festival, held for a week in October, where devout believers pierce their bodies with sharp objects supposedly not feeling any pain as they are in such a deep religious trance. You don't have to believe in the religion to enjoy the colour and spectacle of the festivities or indeed the glorious vegetarian food and market stalls.
MUSLIM MOSQUES:
Around a quarter of Phuket's population is Muslim, therefore again, you will find many mosques throughout Phuket, varying in size and decoration. Most mosques welcome foreign visitors but you must ensure to be respectful and ask permission to enter first. If a ceremony is being performed, do not intrude, and take care to dress modestly, especially women.
Some of the large Muslim mosques, more welcoming to tourists are Yameay Mosque (Phuket City), Cok Makam Musyid Mosque or Patong Mosque (Patong), Islamiya Mosque (Bangtao Village, Thalang), Bang Tao Mosque (Bang Tao), Surin Mosque (Surin), Kamala Mosque (Kamala), Saphan Ruam Mosque (Phuket City).
IMPORTANT INFORMATION WHEN VISITING A TEMPLE IN PHUKET:
• Entrance is Free, but donations are welcomed.
• Shoes must be removed when entering certain parts of the Wats and shrines.
• Any revealing clothing or beachwear that reveal one's shoulders, chest, belly or upper legs
is considered disrespectful when visiting any holy place, in the west or in Asia.
• As a general rule watch the local people and be guided by their actions, do not enter any sacred area
where no one else is, and do not touch anything you do not see anyone else touching.
• Show respect with your language and loudness of voice, remember, people visit these venues to pray.
Follow Us:  



Share This: