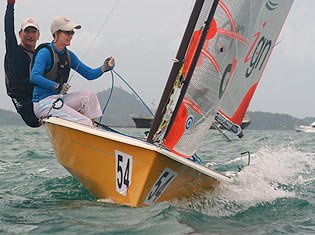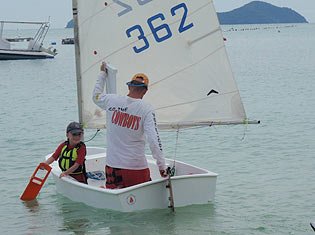 Yacht Clubs
If you are interested in sailing in Phuket, there are many options, and you can not only take lessons to learn to skipper your own boat, but you can choose a more relaxing day sailing on a beautiful yacht, or get involved in a family day and dinghy sailing.
YACHT PRO PHUKET – YACHT HAVEN:
Located at the north of the Island, adjacent tot the Yacht Haven Marina, Yacht Pro has all the options available to you for you to get the very most from a sailing experience. Here we are recommending the Day Sail for guests staying at The Villas, but for more information please visit the Yacht Pro website for comprehensive information.
With options of bare boat sailing or full service with a skipper and crew, Yacht Pro will tailor any sailing trip to accommodate all your needs, for a few hours, up to several days if desired. Specifically, Yacht Pro's "Own a Yacht for a Day" program includes transfer to the Yacht Haven from The Villas and a flexible program designed to meet your needs with a choice from a selection of beautiful yachts, either that you can sail yourself, sail with the guidance of an instructor, or you can sit back and relax and let one of the experienced skippers do all the hard work.
SAIL IN ASIA – AO YON:
As an alternative, but with an equally good selection of catamarans and yachts to choose from, you can also consider a days yacht charter, again as a bareboat or with an experienced skipper. The yachts are boarded at Ao Yon beach, easily accessed from The Villas, heading toward Cape Panwa on the way to Phuket Town, and your day can be tailored to meet your specific desires. Prices are dependent on the number of guests, yacht chosen and your requirements, so contact Sail in Asia directly for more information.
PHUKET YACHT CLUB (Ao Yon):
If you are a sailing enthusiast and wish to sail any of a selection of dinghies, then you may wish to consider joining the Phuket Yacht Club, in Ao Yon. The Club is open every other Sunday and offers a safe and enjoyable way for guests to be introduced to sailing, club racing supervised boat rental organised day sails and a monthly family day BBQ, plus free use of Kayaks on Club days. So, if you are planning on spending a little more time in Phuket, and wish to become more involved in sailing on the Island, this is a great way to start.
The club is a members club only and has a membership fee, which goes towards the rent and maintenance of club boats.
Phuket Yacht Club is open to all and the membership period runs from the 1st January to 31st December.
Contact:
Phuket Yacht Club
Ao Yon, Cape Panwa,
Phuket, Thailand
Details of Club racing, please call Katy Gooch
Tel: +66 (0)85 215 9185
Anyone interested in joining the club please contact the club secretary -
Club Secretary:
Donna Stephens
Tel: +66 (0)86 120 0752
[email protected]
Sailing & Racing:
Andrew de Bruin
Tel: +66 (0)81 894 1530
[email protected]
General Information:
[email protected]
Follow Us:  



Share This: