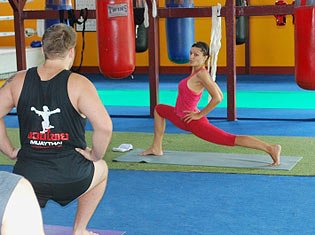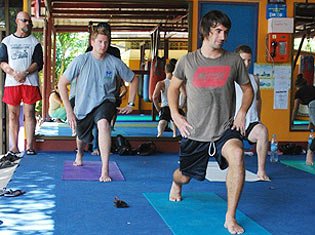 Yoga
The word "yoga" is derived from the Sanskrit root YUJ, meaning to bind, join, attach and yoke. Yoga itself is the ancient therapy system of systematic stretches to strengthen muscles, to promote inner healing, increase circulation and improve concentration and calming of the nervous system. It is an all round system to aid a persons well being and positive energy.
HILLSIDE STUDIO, CHALONG:
If you enjoy yoga, while you are visiting Phuket, you have the opportunity to visit this home based studio, which, as the name suggests, is located on the hillside overlooking Chalong Bay giving beautiful natural daylight and stunning evening views. Hillside Studio is designed to especially cater for groups of up to 6 – 8 persons who desire private programs designed around their requirements and do not want to join in with regular classes held elsewhere, that cater for larger groups of the local and ex–pat community.
This unique Yoga retreat offers a special opportunity to make the best of your time and enjoy the tranquillity of the teak and Balinese architecture, set in a natural botanical setting of lush plants and gardens. The facilities include an 80 square metre studio floor space for Yoga and Pilates Mat Classes, specialised equipment and private changing facilities with separate bathroom and rain shower.
Contact:
Hillside Studio,
Chalong, Phuket,
Thailand
Tel(Studio line): +66 (0)81 370 7699
RAWAI MUAY THAI CAMP – YOGA:
"Mindbody Yoga" is the yogic system developed by the experienced teacher at the Rawai Muay Thai camp, located in the back road, just off Sai Yuan Road, five minutes from The Villas.
Ajahn Kim White is the owner of an exclusive Yoga Centre in Australia, and holds lessons twice a week at the Rawai Camp, on Tuesdays and Thursdays from 10:30 – 11:30 am. Classes are open to anyone who wishes to join in, and can be booked on a daily, weekly or monthly basis, on their own or in combination with Muay Thai training.
Yoga Class Times: Tuesdays and Thursdays, 10:30 – 11:30 am
As the yoga classes are held in the same location as the Muay Thai classes
there is an option to do both together.
Contact:
Rawai Muay Thai Camp
43/42 M.7 Soi Sai Yuan
Rawai, Muang,
Thailand 83130
Tel - Diana (English, Spanish, French, Italian)(Studio line): + 66 (0)81 476 9377
Gym phone: +66 (0)815 376 038


[email protected]
Follow Us:  



Share This: