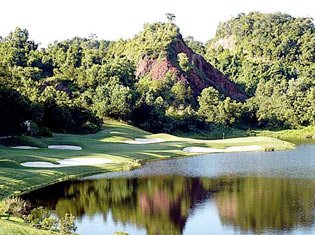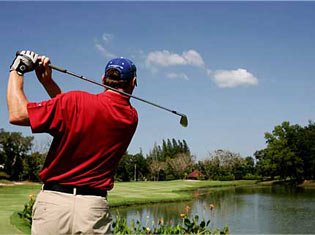 Golf / Driving Ranges
Phuket offers Thailand's best selection of golf courses, the number of which is continually increasing. Standards are high, courses are well–maintained and excellent facilities are offered. As the selection of courses is wide, we suggest that you look at the websites for each golf course to get a better understanding of them, and of their rules and regulations. Most courses, for example, have a dress code, and others do not provide rental golf equipment so you must bring your own. Caddies, all of them women, are obligatory on the island's courses.
For golfers wishing to practice their swing, or if you are enthusiastic to hit a golf ball without actually playing a round of golf, then Phuket has a number of driving ranges you can visit as a non-member and participate. Golf courses such as the Blue Canyon, Mission Hills and the Laguna Golf Club all offer driving range facilities, as does Loch Palm, which is about 30 minutes from The Villas. Closer options are the Phunaka Golf Club and the Phuket Country Club.
With regards to Golf courses and green fees, these are all available on the individual golf course web sites, and we would suggest making reservations on line and then building them into your holiday itinerary.
If you prefer to use an agent to assist with recommending a suitable Golf Course, booking your Tee Time and arranging transportation, then we suggest contacting John at Phuket Golf Leisure: http://www.phuketgolfleisure.com/
Golf courses in Phuket are:
BLUE CANYON COUNTRY CLUB:
The Blue Canyon offers two alternative golf courses, the Canyon Course and the Lakes Course, often seen as you are landing at the airport. The Blue Canyon's championship courses are recognised as one of the best courses in the region.
"One of the best I have ever played on" – Tiger Woods (1998 Johnnie Walker classic)
"It's an excellent layout" – Bernhard Langer (1994 Johnnie Walker classic)
Canyon Course – Surrounded by freshwater lakes, the Canyon Course brilliantly features natural hazards, towering trees, multiple tees, rolling fairways, long carries, narrow landing areas and well–guarded slick greens. The course also has an intriguing mix of narrow tree–lined fairways requiring accurate tee shots and a number of doglegs demanding precise shots, making together with a selection of demanding Par 3s and large, fast, and very true greens. Players have found that each and every one of the 18 holes has its own characteristic, which makes it memorable for them.
Lakes Course – Established in 1999, the Lakes Course, as the name suggests, has water hazards on 17 out of 18 holes. The course is a mixture of water–filled canyons created by open cast mining with its natural land flow left relatively unchanged. Its front 9 holes run through a landscape of lakes and original canyons, whilst the back 9 weaves around more scenic lakes and soft whispering woodlands of rubber trees. With a range of five sets of tees to choose from, it is capable of challenging the best players in the world, although even modest players can enjoy this course with wide fairways and generous greens much wider than Canyon Course.
Location:
Located at the north of the Island, Blue Canyon is around a 7–minute drive (approx. 5 km) from Phuket International Airport. If you are driving from The Villas is will take around 45 minutes on the main highway heading north.
Contact:
Blue Canyon Country Club
165, Moo 1, Thepkasattri Road, Thalang
Phuket 83110, Thailand
Tel: +66 (0)76 328 088
Fax: +66 (0)76 328 068
Reservations Hotline: +66 (0)86 279 8886

LAGUNA GOLF COURSE:
The Laguna Golf Course, formally known as the Banyan Tree Golf Course, is Phuket's only resort–based 18–hole, par 71 golf course, measuring 6,654 yards from the back tees and 5,464 yards from the forward tees. The award winning course features a wealth of tropical scenic lagoons and undulating fairways set against a stunning backdrop of mountains and nearby sea.
Practice Facilities include a covered area for sun and rain protection, a driving ?range, putting greens, practice bunkers and chipping areas; so players have the opportunity to practice and refine all aspects of their games.
Location:
Located in the Laguna area, near Bang Tao Beach, towards the northwest of the Island, around 45 minutes from The Villas.
Contact:
Laguna Phuket Golf Club
34 Moo 4, Srisoonthorn Road, Cherngtalay, Thalang, Phuket 83110, Thailand
Tel: +66 (0)76 270 991/2
Fax: +66 (0)76 324 351
Email: 

[email protected]


www.lagunagolf.com

LOCH PALM GOLF COURSE:
Built around the 48 acre Crystal Lake, Loch Palm's 18–hole course enjoys a dramatic setting in the lush green centre of the Island, nestling below a panoramic range of peaks, and sandwiched between the Kathu Waterfalls and Kathu Village. Loch Palm offers a large variety of holes, giving an opportunity for beginners, average players or professional to test their level of skill. This is not a Monster Course, but it provides a relaxed and enjoyable experience for everyone and is comfortable and convenient.
The 18 hole course, par 72 and 6,555 yards, boasts palm tree–lined fairways, smooth slopes and dramatic elevation. It will take you across and around ravines and plateaus that will test your skills at many levels of play. The front nine sits amid lakes and palm trees. The second nine moves you though mountains, hitting uphill and downhill with woods, irons and even your putter. Loch Palm has recently completed major re–designs and multi–million dollar upgrades, so can now rival any other course in Phuket.
Location:
Located in Kathu District just 7 kilometres from Phuket Town and Patong Beach (about 15 minutes from Patong) Loch Palm is approximately half way between Patong and Phuket City, in the green centre of the Island, around 25 minutes from The Villas.
MISSION HILLS GOLF RESORT AND SPA:
18 Hole Golf Course – Phuket's first 21st Century championship course designed by Jack Nicklaus, offers golfers a wide range of facilities and services, a vast array of superior equipment ready for hire, private lesson from a fully qualified PGA Coach or the opportunity to become a member and benefit from unlimited rounds of play and discounts at the spa, business centre and restaurants. Families who would like to play together will be pleased to know that children may also participate in golf, and off the course there are a host of other amenities including a fitness room, swimming pool and five–star spa to keep non–golfing family members amused.
Mission Hills has been carved from rubber plantations and sits among Phuket's environmentally friendly mangroves, the stunning ocean views that accompany the water which comes into play at seven holes. Caddies and golf carts are both compulsory.
Location:
Located in the northeast of Phuket, south of the airport, Mission Hills is easy to find just off the main highway heading north to the airport from The Villas, around 45 minutes drive.
Contact:
Mission Hills Phuket Golf Resort & Spa
195 Moo 4 Pla khlok, Amphur Thalang, Phuket 83110 Thailand
Tel: +66 76 310 888
Fax: +66 76 310 899

RED MOUNTAIN GOLF COURSE:
This brand new 18 hole Golf course is the sister course to Loch Palm. It is considered the most challenging golf course in Phuket, and one of Asia's most exciting. Winding its way through 1,400 rai of a former tin mine site in the heart of Phuket, imaginatively incorporating an indelible link with an important era in the Island's past, Red Mountain fulfils all the demands of today's professional golfers.
A challenging 6,900 yard lay out, is an exhilarating test of golf with breathtaking views, is designed to complement the shorter and gentler old Loch Palm Course, and will no doubt become a golfing landmark in the region.
Golf tuition from resident PGA Professional Michael Brasier:
Times available are 6am – 8am and 5pm – 7pm, every day of the week, and all day on Thursdays.
Location:
Located adjacent to Loch Palm Golf Course in Kathu District just 7 kilometres from Phuket Town and Patong Beach (about 15 minutes from Patong) Red Mountain is approximately half way between Patong and Phuket City, in the green centre of the Island, around 25 minutes from The Villas.
Contact:
119 Moo 4 Vichitsongkram Rd.,Kathu District, Phuket 83120, Thailand
Tel: +66 (0)76 322 000-1
Fax: +66 (0)76 322 009

Red Mountain website
PHUKET COUNTRY CLUB:
Phuket Country Club established in 1989, was the first championship standard course to be built in Phuket and has a total of 27 holes constructed over a reclaimed tin mine site. The stunning beauty and elegance of the course, together with the typical Thai charm and hospitality will make your golfing here a joyful & memorable occasion. The Club has hosted many International Golf Tournaments, including Phuket Thailand's Ladies Masters 2005, The Phuket Asian Senior Masters 2006 & 2008 and 1st–TGA Junior Golf Thailand Regional Championship Challenge 2010.
18 Hole Old Course – 6483 yards, par 72. This course is fun and friendly, set in a valley with fairways meandering through the hills and limestone cliffs. The course is made up of six holes in undulating hills, six holes on the level and six holes through landscape forest, to challenge all aspects of a players game.
Country Club 9 Hole Course – This is a challenging 3375 yards (championship tee) par 36 course, set within picturesque scenery around distinctive water features that come into play in majority of holes. This course is a challenge for the low handicap player and high handicap golfers may need to purchase a few dozen extra balls from the Pro Shop!
Driving Range:
With 52 Floodlit weatherproof bays, Phuket Country Club is the perfect location to practise your technique, and with a chipping and putting green, and the opportunity to book lessons with their PGA professional, every aspect of your game can be practised. With club rental available, even if you didn't bring your own clubs, you still have the opportunity to join in.
Open: 07:00 - 19:30 Daily
Location:
Phuket Country Club is located towards the centre of the Island between the Central Shopping area and Patong, around 25 minutes from The Villas.
Contact:
Phuket Country Club
80/1 Moo 7, Vichitsongkram Road, Katu District, Phuket 83120, Thailand.
Tel: (+66 76) 319200-204
Fax: (+66 76) 319206
[email protected]
To make bookings, email: [email protected]
PHUNAKA GOLF CLUB:
This recently opened, exceptional 9 hole golf course and 56 bay driving range with Club House facilities, golf academy, fitness room, karaoke rooms and fully stocked pro– shop, is the only golf course on the Island, which offers "Night Golf" on a flood lit course.
The course is ground breaking, designed to challenge all levels of play, by providing a great learning experience for beginners and a chance to practice all shapes of shots for advanced players.
Open day and night, the course features par 3s ranging from 100 to 190 yards, with a short and a medium par 4 and a real par 5, players will find a use for every club in the bag. Equipment is available for rent if you have not brought your own.
Night Golf – playing by floodlight, is attractive to those tourists, beginners, and senior golfers alike who may prefer a cooler time of day to shoot a short round, or those players who work during the day but still wish to fit in a game afterwards, not to mention those ladies amongst us who don't want a suntan!
Lessons – Available with British Professional, Oliver Bates:
Available with Ampol (BIG), Golf Instructor, Tournament Player, TPGA:
Driving Range – The most spectacular 330 yards 56 bay driving range is designed to simulate real golf course play that covers everything from short chip to the full drive.
The Short Game Area – ideal for practicing putting, chip and pitch shots from all possible slops and surfaces, promoting distance control from all possible lies.
Location:
Situated in the lush greenery at the base of the hills where Big Buddha resides, a couple of minutes past Chalong Circle heading north towards the airport, Phunaka Golf Course is conveniently located less than 15 minutes from the Villa.
Follow Us:  



Share This: