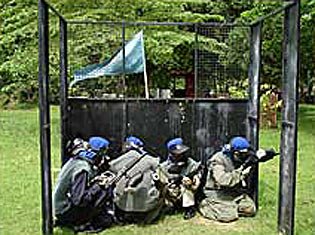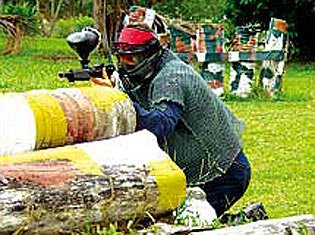 Paintballing
Paintballing facilities are found at the Phuket Shooting Range, where they have two playing fields offering different challenges. The "Wood Field" involving water in the terrain, and the "Town Field" more suitable for fast action packed games for small groups simulating urban warfare.
Paintballing is becoming increasingly popular with guests who want that adrenaline rush without the risk of serious injury that other extreme sports can bring. It is set in a controlled environment, not requiring any specialist training and offering the same opportunities for men and women. Since it encourages social interaction between all ages, paintballing is a great way to promote equality and team building, or just to go out and have fun with the family!
The paintballing facility will provide all the required equipment, including the "guns", ammunition and all protective clothing and head/eye gear. The paint is non–toxic, water soluble, edible paint. A safety briefing and explanation on the workings of all equipment is given prior to games commencing.
There are many variations to the game, but the most commonly played is "Capture the Flag" involving teams using problem–solving skills to capture the opponents flag and return it to their own base without getting "tagged", which is a direct hit by a paintball, anywhere on the body, causing that team player to be out of the game.
Open: Daily, from 09:00 – 18:00
Reservation: by phone or by email
Contact:
82/2 Patak Rd. Ampur Muang Phuket 83130
Tel: 076-280 130 / 098 736 4230

Email:
[email protected]
Website:
www.phuket-shooting.com
Air soft BB gun" is also available, which is very similar to paintballing apart from the fact that BB guns are used instead. For further information please visit the website above.
Follow Us:  



Share This: