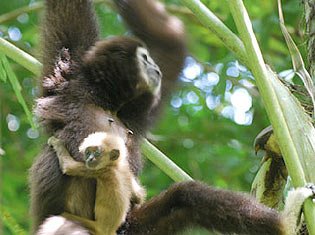 Gibbon Rehabilitation
Both The Rehabilitation Site and The Center for Conservation Education and Fund–Raising are located in Khao Pra Theaw Non–Hunting Area at the Bang Pae Waterfall, which is approximately 9 kilometres east from the Heroines Monument. You are welcome to visit the centre and see some of the gibbons from the viewing platform. It is also possible to adopt a gibbon, and for more information on this please ask at the Centre.
Objectives of the Gibbon Rehabilitation Centre:
1. Develop a method to successfully rehabilitate white–handed gibbons back into their natural habitat.
2. End the demand for the illegal use of gibbons as tourists attractions and as pets.
3. To repopulate the last remaining rainforest in Phuket–Khao Pra Theaw Non–Hunting Area.
4. To create awareness of the importance of conservation of the environment.
5. Provide the opportunity for volunteers to study the white–handed gibbon.
Adoption:
Visitors are invited to adopt a gibbon for the chosen period of time,
and in return they will receive the following:
An Adoption certificate.
A Fact file of your gibbon with a photo.
A Free t–shirt.
Information about the Gibbon Rehabiitatin organization.
News updates from the organization every six months by email.
A bookmark and postcard.
Entrance is FREE, however, you will have to pay an entrance fee to the National Park Wildlife and Plant Conservation Department. Once inside the park, parking is provided and you can walk from here to the center.
Open: Daily from 9am to 4.30pm, except Saturdays when they are open from 9am to 3:30pm
Contact:
email; [email protected]
www.gibbonproject.org
Follow Us:  



Share This: