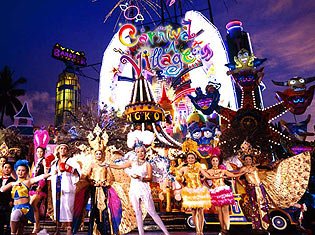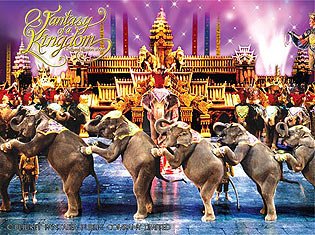 Fantasea
Fantasea is Phuket's cultural theme park, where the accent is one of fun and entertainment coupled with Thailand's legendary hospitality. It comprises Restaurants, Carnival Village Shopping Street, Theatrical Safari, Entertainment Centre, and culminates in a Las Vegas style Cultural Illusion Show, inspired by the colorful heritage of Thailand.
PALACE OF THE ELEPHANTS – THEATER:
The Palace of the Elephants is a 3,000–seat, state–of–the–art, theater that houses the nightly shows of "Fantasy of the Kingdom", painstakingly reconstructed to minute detail, this Palace pays homage to the 999 elephants that protected this legendary kingdom. Inside, fantasy and reality mingle, promising untold wonders for those who enter.
SURIYAMAS – SEAFOOD BUFFET RESTAURANT:
A luxury Thai and International buffet specializing in fresh seafood and prime meats, combined with a distinctive ambiance, is available in the newly renovated Suriyamas Pavilion. This dining experience exposes guest to the decadence and elegance of regal Thai palace settings, ornamented with golden sculptures of mystical angels and classic palace décor – Reservation is highly recommended.
GOLDEN KINNAREE BUFFET RESTAURANT:
The mythical Kinnarees, half–bird and half–woman of legendary beauty and graciousness, come together to look after all visitors like proverbial kings whilst they dine in the world's grandest 4,000 seat dining Golden Pavilion. Here guests can indulge in the most sumptuous feasts of royal Thai dishes and popular international cuisine, prepared by some of Thailand's finest chefs.
TIGER JUNGLE ADVENTURE – THEATRICAL SAFARI:
A journey through a theatrical environment of 12 exotic and mythical scenes inspired by timeless legends and ancient folklores, starring many local animals and cutting–edge special audio and visual effects! You have the opportunity to catch a glimpse of the gentle, magnificent creatures that inhabit the enchanted Kingdom of Kamala.
SONGBIRD LUMINARIE:
Take an enchanted stroll through the dazzling luminescence of the Palace Court and be serenaded by magical songbirds of mythical times.
SIMILAN – ENTERTAINMENT CENTER:
Inspired by the beauty and marine life of the Similan Islands, this unique Entertainment Centre encourages visitors of all ages to have fun testing their skills with exciting games.
CARNIVAL VILLAGE – SHOPPING STREET:
Carnival Village is a wonderful introduction to the theme park, taking guests on a journey through Thailand's architectural history mixed with a unique shopping experience, where visitors can buy high quality locally made products from 15 different shops offering silk, leather, handicrafts, ceramic, jewelry, souvenirs, unusual items about elephants and much more! Additionally you can marvel at the skills of the villagers demonstrating a range of traditional arts and crafts, or sit back and relax in the Kamala Pier restaurant and beer garden while watching cultural parades, pageants, street shows and elephant rides.
FANTASY OF A KINGDOM – CULTURAL ILLUSION SHOW:
The unforgettable theatrical masterpiece "Fantasy Of A Kingdom" is an audio–visual extravaganza incorporating Thai culture with magical illusions, 4–dimentional in–theater effects, aerial ballet, acrobatics, indoor pyrotechnics, special effects, elephant performances and stunts. Designed to take visitors on a journey through Thai history, using the Kingdom's exotic songs and dance, and depicting ancient mythology through the acrobatic antics of Hanuman and his monkey warriors, or the exquisite movements of the beautiful Kinnarees. The host, the Prince of Kamala, brings illusions to life with state of the art techniques and entertainers, and throughout it all, the magical elephants appear and disappear on the stage, leaving you spell bound at the spectacular performance.
"Fantasy of a Kingdom" is performed once a day at the "Palace of the Elephants" theater at 21:00 hr. Theater gate opens at 20:30. The show is approximately 75 minutes in duration.
PARK OPERATING TIMES:
Park operating days and hours:
Phuket FantaSea Cultural Theme Park is open every day except Thursday (If Thursday falls on a public holiday, the park may be open as normal). Operating hours are 17:30 – 23:30.
RESERVATION OFFICE OPERATING DAYS AND HOURS:
The reservation office is open every day from 08:30 – 22:30 (Friday – Wednesday)
and 09:30 – 18:30 (Thursday)
SHOW AND BUFFET DINNER TIME:
Buffet Dinner starts from 18:00 till 21:00. Operating hours may be extended to 17:30 till 22:00 on busy days.
RECOMMENDED ARRIVAL TIME:
To allow time to enjoy all of the attractions and activities at your leisure, if you are attending the 9 pm Show with Buffet Dinner, it is recommend that you arrive no later than 18:30.
For 9pm Show Only, the recommended arrival time is no later than 19:30.
Follow Us:  



Share This: