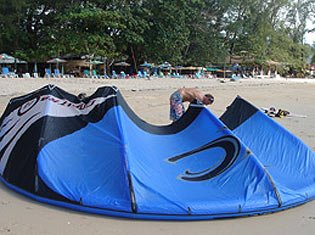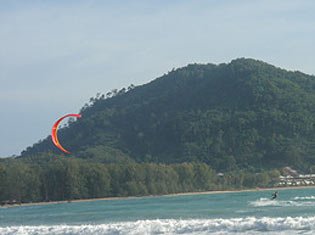 Kite Surfing
Kiteboarding Asia have two schools in Phuket, one located near the airport in Nai Yang, and the other conveniently found about five minutes from The Villas on the road to Chalong. As Phuket gets the best wind in Thailand for kite surfing, all year round, and has the best wide, shallow, sandy beaches with no speedboats or other disturbing water sports, kite surfers have the perfect opportunity to learn, or to practice their skills.
The shops offer a full range of equipment, stocking many different kiteboarding brands, such as: Cabrinha, Airush, Ozone, North, F–one, Liquid force, Flexi foil, Mystic, Nobile and Naish, and experienced teachers only teach with new technology Cabrinha kites and nice harnesses and a board customized for each customers weight.
Prices vary depending on the package, please look on line for further details or contact the school directly.
We run 2 kite schools in Phuket, location depends on the season.
April – November
Nai Yang,
Beach road
Opening Times: 9.00am to 6.00pm
December – March
Chalong
Opening Times: 9.00am to 6.00pm
Contact:
74/10 Nai Yang beach, Phuket, Thailand
Tel: +66 (0) 81 591 4594
email: [email protected]
www.kiteboardingasia.com
Follow Us:  



Share This: