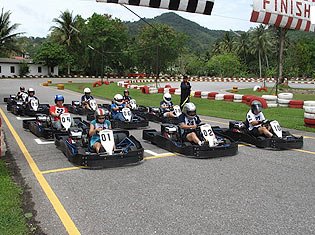 Go-Karting and Buggies
PATONG GO–KART SPEEDWAY:
Formed in 1991, Patong Go–Kart Speedway track was built to include 750 meters of exciting challenges with flood lighting for evening races. There are 35 karts available for rental ranging from 140cc to 400cc. Visitors can choose from High Speed Super Karts (Race Karts), Standard Single Karts (Adult Kart), Two Seater Karts, and Kid Karts, capable of speeds from 40 km/hour up to 110 km/hour. All karts are well–maintained by qualified staff and safety is of paramount importance at the track. Please also note that helmets are provided.
A unique 50–seater round–view restaurant facility is also provided for guests, and the adjacent parking area makes access to the Go–Kart racing area even more convenient. The crew operates its activity site, overlooking the woodlands of Kathu. It is not required to make an appointment, as they have an "Arrive and Drive" session 7 days a week, but reservations can be made to ensure you get the time you want. Off–road Go–Karts are also available at the same location.
Price:
Please contact the track to confirm prices.
Open: Daily from 10:00 – 19:00
GO KARTING AT PHUKET SHOOTING RANGE:
Phuket Racing Kart invites you to enjoy maximum fun along with the adrenaline rush received when you participate in a thrilling experience, with safe and dependable equipment in an inviting atmosphere. The friendly and professional staff are ready to help you master the unique track and this exciting and challenging course, providing you with a memorable experience. You will receive a free computer printout of your run as a souvenir with laps completed, speed, and comparisons to other racers of the day.
One and Two seat Go-Karts are available. Passengers on 2 seat go-karts must not be taller than 150 cms and persons under 20 years old must have parental consent.
Open: Daily from 9am – 6pm
Follow Us:  



Share This: