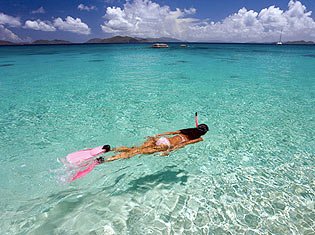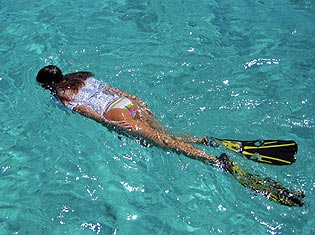 Snorkelling
Snorkeling can be done all year round in Phuket, but the best time of year is during the "High Season" from November to April, when the sea's at its most placid. Although it may be suitable for snorkeling throughout the May to October "Low Season", remember to take care as there can be an especially strong undertow that can become dangerous along the west coast beaches. Warm water temperatures of around 28°C mean that snorkelers don't need to wear wetsuits, but you are advised to wear a t–shirt to prevent sunburn.
Many beaches have stalls to rent snorkeling gear from for the day, but it may not be of great quality, so it is a good option to consider buying inexpensive masks, snorkels and even fins for yourself. Alternatively if you decide to join a boat tour or charter a boat of your own to snorkel in one of the beautiful snorkeling destination off the Island, then the quality of the gear is better, and included in the rental price.
Many of Phuket's beaches are too sandy to be good for snorkeling, as a good location needs rocks and corals to attract plenty of sea life, but you can try snorkeling at pretty much any beach, just some are obviously going to be better than others. The tsunami inflicted a lot of damage to Phuket's corals and you will see a lot of flattened dead coral at most of the snorkeling sites, but a great deal of corals survived and new corals are growing all the time, so there is still plenty to see.
Below are listed the top snorkeling sites on the island, they are best when the tide is in, as the deeper water bring more sea life, we start with the beaches in the south of Phuket, closer to The Villas, but it is worth considering exploring beaches further away or around the smaller islands surrounding Phuket.
AO SANE (Jungle Beach):
This beach can only be reached by boat, or by following the road that runs in front of The Nai Harn Hotel on Nai Harn Beach, a few minutes from The Villas. Sometimes called "Jungle Beach", it is generally quieter and more peaceful than others, because fewer people know of its existence, but it is worth a visit as it has good coral outcrops off its mostly rocky shore.
YA NUI BEACH:
Found between Nai Harn and Promthep Cape, this beach is considered to have fairly good snorkeling available. Ya Nui's popularity has increased in recent years as it is now a launch point for divers and is lined with beach chairs for rent, but it is still a relatively relaxed, and with it's small, informal restaurant and friendly staff, it's is a great venue for a sun downer as the sunsets.
KATA BEACH:
Most of Kata's length is soft sand, and can have large waves, but the north end of the bay is rocky with clear water and lots of coral, so it a good option about 10 minutes from The Villas.
KARON BEACH:
At the corner of its south end, nearer to The Villas are some rocks and coral, and its shallow waters make it a good option for children.
PATONG BEACH:
The north side of Patong up through Kalim Bay is rocky and has a fair bit of coral and fish to look at and of course you have all the water sports on offer if you get bored with the natural attractions.
KAMALA BEACH:
The north end of Kamala has a fair–sized coral reef, though it is not as colourful as it was in the past due to the high boat traffic in the bay, but if you are in this area it is a good alternative.
LAEM SINGH BEACH:
This small beach just north of Kamala has a rocky area at its south end, offering some decent snorkeling and a different perspective to the long sandy beaches at other locations along the west coast.
SURIN BEACH:
There are quite a few fish to see around the rocks at Surin's south end, though not much coral, as this beach is more suitable for sunbathing and swimming.
THE PHI PHI ISLANDS:
This is an outstanding snorkel destination, with an incredible variety of tropical fish and bright coral. Join a day tour or arrange a private boat charter – trips run every day, year round. Closer to Phuket are Coral, Racha, and Khai Nok islands, each featuring clear waters and abundant marine life just offshore.
A bit further away are the spectacular Similan Islands which are world–famous for diving and snorkeling. If you are interested in journeying this far it is suggested to contact a dive company to organize a trip here as it is recommended to spend more than one day. See our Dive company recommendations for more details.
Please also take a look at our page on Island Trips for further recommendations.
Follow Us:  



Share This: