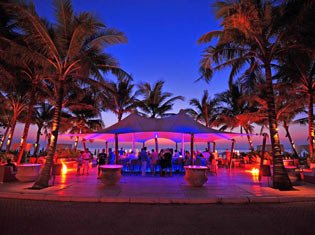 Nightlife
When visiting Phuket you have the opportunity to experience a variety of different "Nightlife" options, ranging from small local bars with pool tables, dart boards and music - these regularly change names and ownership, but are all located along the main roads all over the Island. There is a wide selections of restaurants, ranging from local Thai, to International cuisine, some with stylish decoration and ambiance and others and with after dinner bar areas and inviting music. If you wish to party on into the night, there is a interesting selection of late night bars and clubs playing the latest dance tracks and filled with many local people and tourists alike. Additionally, the exotic and colourful selection of bars in Bangla road in Patong and the "girlie bars" and "Ping Pong Shows" are indeed an incomparable experience!
Bangla Road in Patong is the most well–known stretch of road for lively nightlife, but other places where you will find bars and clubs are on The Villas doorstep in Nai Harn and Rawai, and also in Chalong, Kata, Karon, Kamala, Surin and the Laguna. Below are the names of some of the more well–known clubs and bars that we would recommend, however, if you explore these areas you will discover numerous other bars to have a few drinks and a bit of fun.All the clubs and bars with official websites are listed below, but for further information on the others, look on line: http://www.phuket.com/nightlife/
NAI HARN:
• Rock Salt and The Nai Harn Hotel, located on Nai Harn Beach
• Banana Corner, Yai Yuan, Nai Harn - Restaurant and a selection of small bars
• Islander Sport Bar and Restaurant
• Sabai Corner
RAWAI:
CHALONG:
KATA:
• Dino Park Bar and Restaurant
• Small Viewpoint and After Beach Bar (Sunset Bar): Located less than 10 minutes from The Villas, overlooking Kata Noi beach, these two bars offer the perfect setting to enjoy a couple of "sundowners" and watch the beautiful setting sun after a day on the beach, elephant trekking or sight seeing. The two viewpoint bars are very similar in atmosphere and décor, featuring Bob Marley tunes and "Reggae" style decoration. A third bar and restaurant next door offers a comprehensive menu and a range of cocktails. Make sure you take mosquito spray.
PHUKET CITY:
KAMALA:
SURIN:
BANG TAO (The Laguna):
LAYAN:
PATONG:
PATONG – Soi Bangla:
Soi Bangla is the heart and soul of Patong where you will find more than one hundred bars, falling into five different categories: Western bars or "pubs"; Beer Bars (Girlie Bars); Go–Go bars, Nightclubs and Karaoke bars. Many of the bars lining either side of Bangla Road are Beer Bars, and this is usually where most people start drinking as many have "Happy Hour" and show sporting events on large televisions. As bars gradually start to fill up as tourists finish dinner, shopping and watching shows, the fun of the Go–Go Bars and Karaoke bars becomes enticing, and if you are really keen to party the night away you can end the nght in one of several nightclubs. The official closing time is 2am, but many venues close later, however it does depend on the number of guests still partying and how vigilant the police are at checking the operating times.
Popular venues are:
There are many "side–streets" that run off Soi Bangla, all with their own selection of bars and differing atmospheres, for further information look at the latest on-line details: Read More
Popular venues are:

Soi Easy – Two levels of bars in a covered area, where you find the new very popular disco "Hollywood".
Soi Crocodile (Ladyman Soi) – This is usually packed with people every night, and you will always find Katoeys trying to entice people in as these sexy "girls" put on a display in colorful costumes for tourists who can't get enough of them. Pay 100–200 Baht for a photograph with them, certainly something to show to your friends back home that won't believe she is a man.
Soi Freedom (formally Soi Eric) – More of the same bars, but not quite as crowded as Soi Crocodile. Many bars employ girls to coax customers in by challenging them to play simple bar games like "Connect Four", "Hammer the nail" or "Jenga", which is always a good ice–breaker at the beginning of the evening.
Soi Seadragon – This is the place to find a selection of Go–Go bars, as his Soi has more than any other street in Patong. The Go–Go bars are all inside and air conditioned, where your are invited in for a "sexy" show and watch the girls dancing erotically on the stage, often round steel poles or with each other. Be aware that entrance is usually free, but you are obligated to purchase at least one over priced drink and give the girls tips after their performances.
Tiger Entertainment Bars – One of the best bar Soi's in Bangla Road, the complex comprises of two levels, upstairs for dancing in the packed Tiger Discotheque or sit downstairs for a drink in one of the many bars located under the disco and watch the girls table dancing in very short skirts. You find it at the entrance of Tiger Discotheque on the left side.
Go–Go Bars:
Patong's Go–Go bars feature sexy, scantily–clad young women swaying to the music, and although they aren't the raunchy circuses they used to be, they still provide plenty to look at. According to Thai law, total nudity is banned but in some establishments these rules are often bent, if not outright ignored. All these clubs are well advertised by staff members walking up and down Bangla Road with a 'picture menu' encouraging tourists (not aimed specifically at men, but welcoming to girls and couples as well) to see a Ping Pong Show. Definitely an experience and something to talk about once back home, although photography is strictly forbidden, so you won't have photos to accompany the stories.
What to expect?
he girls who range from young, cute, and slim to the more mature, rounded and experienced ladies, usually 'pole dance' on a central stage, wearing light skirts and bras. Customers can sit around the stage bar or further back in less conspicuous seats watching the girls as they rotate every five minutes from pole to pole until they reach a complete round. The girls will then mingle with the audience, flirting with customers hoping to engage someone in conversation and be bought a drink. In a classic Ping Pong show, roughly every 30 minutes or so (depending on the number of customers), one of the more mature ladies, who is usually less attractive than the other performers, will execute a number of stunts involving ping pong balls, and various other interesting accessories such as goldfish, birds, frogs, unopened beer bottles, balloons and even darts to name but a few! Certainly an eye opening experience, usually very good natured and popular with tourists who have an open mind.
Which?
A Go–Go Bars look often look very similar but some try little 'extras' to stand out from the crowd.

Here is a list of popular Go–Go Bars:
• The Secret – Soi Easy
• Suzy Wong (I & II) – Soi Seadragon
• Diablo A Go–Go – Soi Seadragon
• Devil's Playground – Soi Seadragon
• Play School A Go–Go – Soi Seadragon
• House of Sound – Soi Seadragon
• Exotica – Soi Seadragon
• Playboy A Go Go – Soi Seadragon
• Moulin Rouge – Soi Vegas
• Money Night – Soi Vegas
• Roxy A Go–Go – Soi Vegas
• Rock Hard A Go–Go – Soi Bangla
• Baccarat A Go–Go – Soi Bangla
Follow Us:  



Share This: