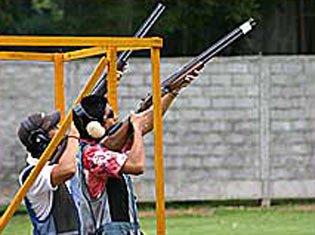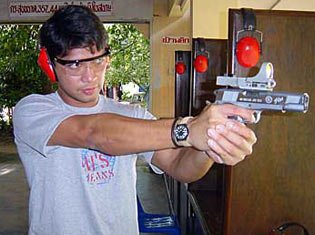 Shooting Range
There is a wide variety of activities at Phuket shooting range. Not only do they have both shooting and clay pigeon shooting, but they also have paintball, air soft BB gun, archery, go karts, ATV quad–biking, monkey school and cobra show. So a trip here can be to participate in just one activity, or you can combine it with several attractions for a full days program.
Phuket Shooting Range
Founded in 1989, Phuket Shooting Range is considered number one on the Island, offering the complete firearms experience with the options of a 24 galley indoor range for accuracy training and 2 outdoor special combat courses proving to be both exciting and daring. The wide selection of handguns, shotguns and rifles of varying calibre: .22, .23, .45 and 9 mm are all supervised by highly qualified instructors, who will safely teach you the basics of shooting and gun control skills.
:
The Phuket Shooting Range is fully equipped with a variety of firearms and bullet sizes to suit all your Hollywood desires. Whether it is pistols or revolvers, rifles or shotguns, you have a wide choice, and under the safe and professional instruction you will have enjoy this exciting experience.
Open: Daily from 09:00 to 18:00
Children must be at least 135cm tall to a handle firearm
This is a walk–in facility, no reservation required.
CLAY PIGEON SHOOTING:
Clay pigeon shooting is the art of shooting at special flying targets, known as clay pigeons or clay targets, released into the air from a machine called a trap, with a shotgun or any type of firearm. Clay pigeon shooting is a sport that can be enjoyed by anyone between the ages of 9 to 90 and of either sex, suitable for beginners and novices. The fully qualified instructors are available to help at all times and before starting the shoot they instruct everyone on safety procedures and the basics of gun safety, and give advice on how to hit the target as it flies through the air.
Open: Daily from 09:00 to 18:00
This is a walk–in facility, no reservation required.
Contact:
82/2 Patak Rd.
Ampur Muang
Phuket 83130
Thailand
Tel: +66 (0)76 381 667 / +66 (0)76 381 668
email: [email protected]
http://phuketshooting.com/clay.html
Follow Us:  



Share This: