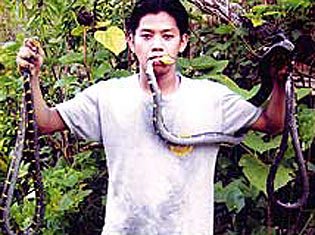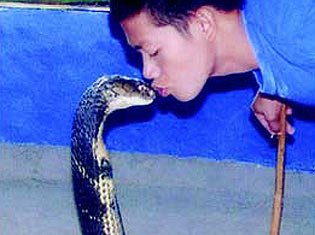 Snake Shows
If you think that snakes are slimy, slippery and cold you should visit a snake show and learn a little more about these creatures, and maybe you will fall in love with them or at least will have learned that snakes do not deserve a reputation as slimy killers but can be viewed as adorable wonders of nature. Take the chance to hold or get near these often–misunderstood creatures.
Snake Shows are both educational and entertaining.
COBRA SHOW AT PHUKET SHOOTING RANGE:
Full Show:
Watch as the snake handler kisses the deadly poisonous king cobra and plays with Siamese cobras, even catching them with his mouth! Be amazed by the agility of the copper head racer which can jump up to 2 meters, and enjoy the chance to hold and be photographed with a python around your neck, plus walk around in the tropical garden to see many different kind of snakes, birds and lizards, while be informed about their nature, livelihood, care, and how should you act if ever confronted by one!
Open: Daily from 09:00 to 18:00
Contact:
82/2 Patak Rd.
Ampur Muang
Phuket 83130
Thailand
Tel: +66 (0) 85 784 0749 / 080699 6063
www.phuket-shooting.com
PHUCHADA SAFARI:
Located within a few minutes drive from The Villas, Phuchada Safari is a family run business, providing a professional and experienced Snake Show offering advice while entertaining you, rounded off with the perfect opportunity to hold these beautiful creatures yourself.
Phuchada Safari can pick you up from The Villas and you can experience just the Snake Show, or you can choose to combine it with one or more of the other activities at the Safari, such as the Elephant Safari and a visit to their baby elephant, Monkey Show, Fish Farm or ATV Quad Biking (Details of all activities are giving under their respective headings).
Please ask and member of The Villas team to contact Phuchada Safari for reservations.
Open: Daily from 09:00 to 18:00
Follow Us:  



Share This: