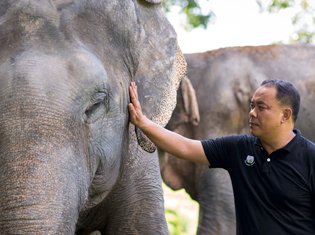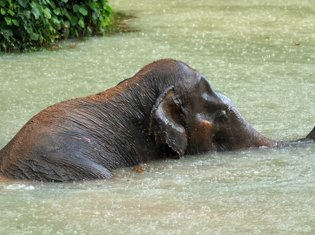 Elephants in Phuket
If you wish to visit Elephants while you are staying in Phuket, we recommend contacting our Tour Manager directly as she has the most up to date information on the best options for you to consider to humanely meet and interact with the elephants on the Island. We do not support riding elephants and trekking on these beautiful creatures, but we understand the fascination of wanting to learn about them, feed then and see them in their natural habitat, so the perfect way to do this is by visiting the sanctuaries and helping support Elephants welfare and care.
We recommend visiting the Phuket Elephant Sanctuary, which was the first of it's kind in Phuket, and is a joint partnership between Mr. Montri Todtane, a Phuket elephant camp owner and world-renowned elephant rescuer and conservationist Lek Chailert, founder of Save Elephant Foundation, who also founded the Elephant Nature Park in Chiang Mai.
The Phuket Elephant Sanctuary seeks to meet the highest standard in animal welfare : rescuing, retiring and rehabilitating elephants that have suffered from working in the trekking and logging industries. Visiting the elephants in this wonderful environment will give you the opportunity to see elephants, learn about them and, their welfare and ethical tourism and give you lasting memories to treasure of the majestic animals.
Contact:
Phuket Elephant Sanctuary Co. Ltd, 100, Moo 2,
Paklok, Phuket
To speak with us, please call:
Office Number (between 8.30 am and 5.30 pm) +66 76 529 099
Mobile (between 7.30 am and 11.00 pm) (Thai) +66 95 418 1532
Mobile (between 07.30 am - 11.00 pm) (Thai / English) +66 88 752 3853
Emai: [email protected]
https://www.phuketelephantsanctuary.org/
www.facebook.com/phuketelephantsanctuary
Follow Us:  



Share This: