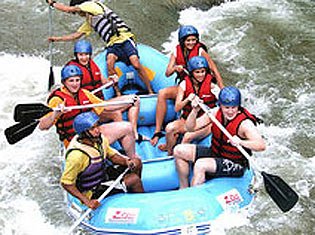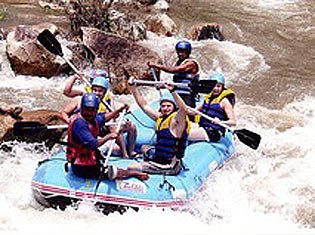 White Water Rafting (Phang Nga)
For the adventurous guest who wants to challenge themselves, "Phuket Trips" has a selection of options at their river base camp that combine white water rafting with a number of other adrenaline based activities found throughout the natural jungle landscape. Options to participate in include Elephant Trekking, ATV quad biking, the 150 metre Flying fox, a 180 metre Rope bridge, Jungle net climbing, and Abseiling adventure.
Designed to be suitable for the beginner or expert, and also with younger children in mind, the white water rafting experience is satisfying for everyone as they enjoy the clean refreshing water, and the delightful natural surroundings of the jungles flora and fauna.
Each White Water Rafting Tour includes a complete safety and paddle briefing at the River Base, an experienced guide in each raft; supervisors in each dangerous point; life guards on stand by and insurance. Plus as the tours take a whole day you have the opportunity to enjoy a sumptuous Thai lunch after trekking to one of the province's beautiful waterfalls.
Available Trips:
Whitewater Rafting Day Trip
Whitewater Rafting + Elephant Trekking
Whitewater Rafting + Elephant Trekking + ATV Tour (1 hrs)
Whitewater Rafting + ATV Tour (2 hrs)
Whitewater + Adventure activities - flying fox, rope bridge, abseiling, climbing net
Contact:
Operation Office:
Andamanda Travel,
32 Tepkrasatree Road,
Maung Phuket, Thailand, 83000
Tel: +66 (0)87 672 7266
Fax: +66 (0)76 212 595


[email protected]
Overnight at rafting camp available:
Rafting Camp info
For further information and to make reservations please visit the following website:
www.phuket-trips.com
Follow Us:  



Share This: