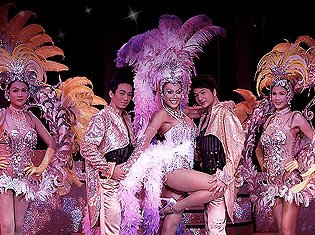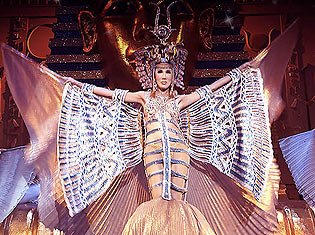 Ladyboy Show
For a truly unique event that can only be found in Thailand, a "not to be missed" experience of extravaganza and glitz of a "Lady Boy" Cabaret, the only way to enjoy the entertainment of the cross-dressing performers and fabulous sets, music and lights and glamour.
Simon Cabaret
This musical spectacular in a 600 seater, luxurious and stylish venue, combining western showmanship with pageant and dance as performed by the men and "ladies" of Phuket is an exhibition of Thailand's "third sex" at it's most memorable. Definitely a production worth watching, with the option to meet the stars of the show afterwards and a unique photograph opportunity.
Ticket information:
Venue: Phuket Simon Cabaret
Location: 8 Sirirach Rd. Patong beach, Kathu, Phuket Thailand.
Show Date: EverydayShow Time: Three times daily : 6:00PM, 7:45 PM and 9:30 PM
Aphrodite Cabaret
Aphrodite Cabaret had its first show in 2010, with a theatre that can accommodate up to 1,000 spectators, and featuring more than 100 performers, who contribute to the show's reputation for being one of the best cross-dressing show cabaret shows around.
Address : 99/100, Moo 1, Chalermprakiat, 
Ror 9 Rd, Kathu, Phuket 83120

SHOWTIME
Every Night : 3 Times 
1st : 05.00PM, 2nd : 06.30PM, 3rd : 08.00PM 
Parking : 100 slots
BOOKING YOUR SEAT
Reservations:  +66 (0)76 612 888, +66 (0)76 248 666
Phone: +66 (0)89 973 6352-7
Email: [email protected]
website
Follow Us:  



Share This: