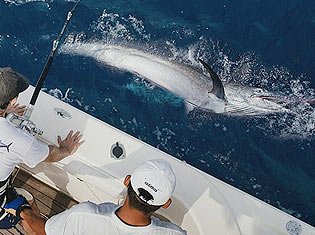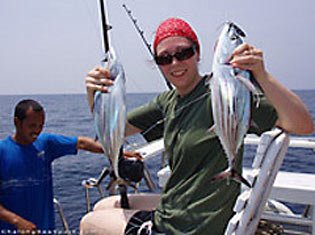 FISHING BOAT TRIPS and FISHING ON THE ISLAND:
Phuket is Thailand's largest Island and the surrounding waters are well known to be home to Tuna, Marlin, Sailfish and Yellow fin Tuna Fish, aswell as many more varieties. Phuket has two seasons, the "Dry Season" which is considered High Season, running from the beginning of November until the end of April, and the "Wet Season" which often has tropical down pours of rain and harsh winds. Fishing is considered to be good all year round in Phuket, but specifically towards the end of the Wet Season, from July to October. Do remember the weather out on the open sea can be rougher at this time of the year and you must always take care and listen to the boats crew. The Fishing Boat Companies will cancel trips if it is considered too rough and unsafe.
With safety and experience or a professional crew as a main priority, it is recommended that you contact our Tour Manager who will advise you on the most suitable options for your fishing experience. The best options will be based on your experience, desire, ages and stamina of guests and budget, and with many options to consider in Phuket, is is necessary to get professional advice.
If you enjoy fishing, but do not want to venture out on a boat, then Chalong Fishing Park offers you the opportunity to fish for Fresh Water Fish, without have to leave the island and find your sea legs.
FISHING WITH WAHOO FISHING:
Private Boat:
Wahoo Fishing has a wide variety of boats on offer, so can cater for the needs, budgets & desired activities of all guests. All boats are of the highest standard offering full five star service. On a typical day out there will a minimum of three crew including chef and hostess to pamper your every wish and always fresh clean towels and soap products on board.
Wahoo's now world–renowned day charters are designed to be as enjoyable for a complete novice as they are for an experienced angler. For a day trip we can recommend 2 destinations: Racha Yai/Racha Noi and The Drop Off. If you are interested in a luxury private boat fishing charter, please contact WAHOO FISHING directly for a personalised quotation.
Racha Yai/ Racha Noi:Situated 18 miles south of Phuket are the Racha Islands. They are very popular for day trip excursions due to their close proximity to Phuket but they produce very rewarding catches. The North East corner of Racha Yai is a notorious Sailfish hot–spot and produces outstanding action. Wahoo, Dorado, Barracuda and multitudes of Skipjack, and Longtail Tuna are regularly caught off this island.
Racha Noi and the rocky pinnacles to the south of the island can offer sizzling sport with Black Marlin, Sailfish, Wahoo and several other desirable gamefish.
The Drop Off:The drop–off, on Phuket's continental shelf offers anglers their best chance of Black Marlin action. The drop–off is also the haunt of Yellowfin Tuna – though rarely trophy size. Big Wahoo often cruise the shelf, as do Barracuda and impressive Dorado. The Skipjacks are generally much bigger than their cousins caught in shallower water. Sailfish do show up occasionally but seldom in great numbers.
"JOIN ON" Fishing:
If you are a smaller group or individual interested in fishing and you do not require a private fishing trip, you can still enjoy the luxury of Wahoo Fishing's five star service and luxury boats by joining other enthusiasts in the same situation and share a boat trip.
There are two options:
Ultimate Phuket Fishing Tour and Phuket Fishing Tour:
The Ultimate Phuket Fishing Tour provides the most comfort, and best value for money 'Join On' experience on board an imported tournament rigged sport fishing boat, and the Phuket Fishing Tour is on board the best maintained, tournament rigged Thai fishing boats on the Island. Your selection of boat is reflected in the price per head charged.
With either Fishing Tour the highly experienced crew, go to great lengths to ensure that anglers of all experiences reap maximum rewards on board. The number of guests on board is strictly limited to 6 anglers so as to allow everyone a generous amount of time with rod in hand throughout the day.
Itinerary for either Tour:
08:30 - Arrive at the Wahoo office and enjoy a welcome drink.09:00 - Depart for Racha and the fishing grounds. Trolling begins approximately 30 minutes after departure. The crew, depending on conditions, may attempt to catch live bait for later in the day.12:00 - 13:00 - Lunch is served and the guests have an opportunity to spend some time swimming and snorkeling.
13:00 - 16: 30 - Fishing in the afternoon targets the local Billfish population.
17:30 - Arrival back to Chalong Pier.
Number of Guests:
Minimum 2 guests.
Maximum - 6 Fishing, 4 Non-Fishing.
Days of operation of ULTIMATE PHUKET FISHING TOUR: Monday and Friday
Days of operation of PHUKET FISHING TOUR: Tuesday and Saturday
What's included:
Transfer from The Villas, 3 English speak crew members, lunch on board, snacks, fruits and free flow soft drinks, all fishing and snorkeling equipment, fresh towels, port fees and insurance.
What to bring:
Sunscreen, sun hat, swimwear, camera.
Prices:
Prices vary – as they cater to your preferences, prices will be given on inquiry.
Contact:
Wahoo Big Game Fishing (Thailand) Co., Ltd.
Head Quarters
The Sea Center, 48/20, Moo 9
Soi Ao Chalong, Amphur Muang
Phuket 83130
Tel: +66 (0)76 281 510
Fax: +66 (0)76 280 775
Live Chat: WahooPhuket - MSN
www.wahoo.ws
CHALONG FISHING PARK:
Chalong Fishing Park is a family run business that opening in at the end of 2016, offering you the opportunity to catch fish up to at least 35kgs, including Giant Mekong Catfish, Giant Siamese Carp, Chao Prada Catfish, Alligator Gar and many more. Non-fishing guests and season tickets are available and a Lakeside restaurant offers a wide selection of food and drink to enjoy in a sociable environment.
Prices include: All Equipment; Tackle, Standard Bait, Guides, and the use of all on site facilities. 3 hour walk-in, up to 6 hour and over 6 hour (Full Day) tickets are available.
Open: Daily from 08:00 to 20:00 and open until 22:00 on Wednesdays
Contact:
71/106 Visit Road, Soi Susan 1,
Rawai, Phuket
Tel: 081 155 4336
http://chalongfishingpark.com/
https://www.facebook.com/chalongfishingpark
Follow Us:  



Share This: