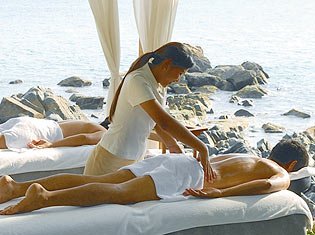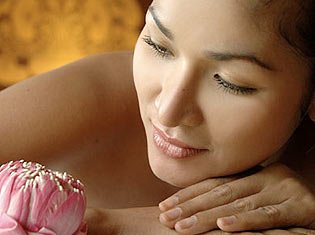 Spas
Thailand is renowned worldwide for some beautiful Spas located across the country, and Phuket has its own large selection of top class spas to choose from, as well as the local, less expensive options where you can experience massages and a selection of treatments in more basic surroundings, but at a fraction of the cost.
At The Villas we can arrange for a visiting masseuse or beautician to perform Thai or Oil Massages, foot or head and neck massage, as well as manicures, pedicures and foot scrubs, at local beauty shop prices, so you can relax and pamper yourself in the comfort of The Villas if you prefer not to venture too far. All treatments can be arranged through the Villa's Team.
If you wish to treat yourself to a luxurious day at one of the many spas, we have listed a selection of places located within short distances to The Villas for your consideration, as each one has different packages on offer with a variety of treatments and therapies, depending on your individual requirements.
ATSUMI HEALING CENTER:
The Atsumi Healing Center is located five minutes from the villas and it welcomes people who have travelled from across the world to visit it's Natural Therapy, Education Center & Retreat to re–new their health by fasting and detoxing and have the opportunity to learn new therapies or activities. Many people visit this retreat not only to enjoy the peace and quiet, but also to consult staff and practitioners with a view to transforming their body, mind and spirit. A wide range of experienced resident therapists are available to develop and advise you on the most suitable program, and help and encourage you during your fast.
As detoxification purifies both the physical and emotional body fasting is the perfect time to receive additional therapies, as your body and mind are able to incorporate the benefits more effectively and intensely.?? Atsumi offers various therapies, but some to consider are: Yoga, Meditation, Ki Kung, Herbal and Natural Therapies, Acupuncture, ThaiAtsu, Thai Massage, Neuro Linguistic Programming, Cranial Sacral Therapy, Rebirthing, Reiki, Personal and Spiritual Development, Hypnotherapy, Psychic Reading, Oxygen Therapy, Homeopathy, Iridology and Osteopathy, Life Coaching, Emotional Freedom Technique (EFT), Nutritional Analysis and Body Composition, Lymphatic Massage, Core Synthesis, Self–shiatsu and Reflexology.
Atsumi has also developed a RAW FOOD MENU, perfect for pre–fasting, post–fasting, or people simply wanting a milder healthy cleanse, so there are several options to consider.
We suggest contacting the Atsumi Healing Center directly to discuss your individual requirements.
Prices:
Prices range depending on treatment.
KATATHANI PHUKET BEACH RESORT:
Katathani Phuket Beach Resorts occupies most of beautiful Kata Noi beach, less than 15 minutes from The Villas. The resort's recently expanded 'Tew Son' spa is found at the southern end of the large resort surrounded by the namesake's swaying pine–like beachfront trees, and it offers a range of treatments from state–of–the–art spa products or traditional Thai treatments. The Spa is part of Asian Wind's collection of fine Phuket spas and it offers a broad range of therapies for the single visitor or as a couple. The menu comprises of options for Massages, Facials, Body and Beauty Treatments, and the signature treatment of a Casuarina Leaf Enzyme Wrap, designed exclusively to pamper your body with the healing enzymes from the casuarina pine needle and to refresh your mind with the heavenly aroma of bergamot. A visit to this Spa would not be complete without time to revitalize in an aromatic herbal steam or relax in the rooftop Jacuzzi with stunning views over the Andaman Sea.
Contact:
14 Kata Noi Road,
Karon, Muang,
Phuket 83100
Thailand
Tel: +66 (0)76 330 124 to 6 / +66 (0 76 284 096 to 100
Fax: +66 (0)76 330 426
www.katathani.com
BODY & MIND DAY SPA:
If you wish to experience five star treatments within luxurious surrounding, but at more modest prices then visit the Body & Mind Day Spa located within easy walking distance of Karon Beach, about 15 minutes up the coast from The Villas. Body and Mind Day Spa's idea to offer a full range of high quality exclusive therapies using exotic products at reasonable high street prices enables everyone to enjoy one of life's luxuries.
Body and Mind Day Spa uses all natural products, blended from the fruits, herbs and plants of the Orient and designed to be used in the highest quality treatments, such as refreshing hydrotherapy, tantalizing body wraps, fresh facial and relaxing massages. However, the no fuss or inflated surroundings ensure you enjoy the ambiance of serene minimalism, which enables the Spas therapists to focus on the individual needs and desires of guests, but allowing all treatments to be excellent value for money. After care is available as you can treat yourself at home with our products available in our boutique. All products used within the Spa are available for you to treat yourself and purchase from it's own Boutique, so you can use them at home.
Opening Times: 09:00 – 22:00
HIDEAWAY DAY SPAS:
There are three uniquely Thai Hideaway Day Spas in Phuket, all nestled in a natural jungle environment, the closest to The Villas is conveniently located, and recently opened Chalong Bay Day Spa, about 10 minutes away. The other two locations are Patong and the Laguna.
The Spas were originally designed to cater to the expatriate community and local Thai's who wanted to experience the peace and spiritual energy of programs using traditional Thai herbal aromatherapy remedies. Situated in a tranquil environment, the emphasis is to rejuvenate mind, body and soul.
For 16 years hundreds of guests from all over the world have visited these traditional Spas to enjoy their Herbal Steams and authentic Thai Massages using formulas developed and passed down through generations. All treatments are performed by professional therapists who have dedicated many years to working at the Hideaway Day Spas and who's main intention is to leave guests with an ultimate feeling of tranquility, peace and harmony and completely revitalized.
Spa Treatments and Therapies:
• Herbal Aromatherapy Steam Sauna
• Traditional Thai Massage with Aromatherapy Oils
• Facial Massage with Prai–Khamin Cleanser, Prai–Khamin White Orchid Moisturizer
and a Prai, Khamin, Aloe–Vera Toner
• Wild Mint Foot Massage
• Nutmeg & Cajeput Hand Massage
• Wild Lime Hair/ Head Treatment
• Skin Repair and rejuvenation Therapies: Body & Body Wraps
• Masques and Salt Scrubs
Contact:
Chalong Bay Day Spa:
1/19 Visit Road,
Chalong Bay,
Amphur Muang,
Phuket 83130
Tel: +66 (0)76 280 649
Patong Hideaway Day Spa:
157 Nanai Road,
Patong Beach,
Phuket 83150
Tel: +66 (0)76 340 591 or +66 (0)76 342 475
Mobile: +66 (0)81 750 0026
Laguna Hideaway Day Spa (Bang Tao):
Entrance to Laguna Road,
Choeng Talay,
Phuket 83110
Tel: +66 (0)76 271 549
Mobile: +66 (0)81 750 0026
[email protected]
HIRANYIKARA SPA (LUXURY SPA FOR MEN):
Hiranyikara Spa is Phuket's first luxury spa with men in mind, located in the natural surroundings near Bang Wad reservoir in Kathu, in the centre of the Island, around 25 minutes from The Villas. Hiranyikara is the perfect destination to escape daily stresses and sooth and indulge in various relaxing spa and health treatments, such as massages, scrubs, wraps and many other beauty and skincare treatments, all provided by the experienced male therapists, helping to recharge batteries after long working hours.
With four private massage rooms, three suites, a tranquil outdoor sala, sauna and Jacuzzi, Thai herbal stream room and swimming pool a full range of facilities are provided to ensure guests make the most of their visit.
Prices:
Prices vary depending on treatment.
Opening Times: 10:00 to 21:00 Daily
NAKALAY SPA AT THAVORN BEACH VILLAGE RESORT:
The 25 acres of The Thavorn Beach Resort runs from the top of a coastal hillside, through tropical gardens, down towards the Andaman Sea shoreline, where you find the secluded Nakalya Spa, giving it one of the most beautiful locations in Thailand. The Spa offers a number of salas and treatment rooms, Jacuzzis and saunas and a full beauty salon so guests have many options of where to relax and enjoy their chosen package or therapy.
The beautiful setting of this Spa is a strong attraction and in conjunction with Thai traditional treatments, focusing on relaxation to refresh the body and sooth the spirit, and a selection of special packages designed to include a variety of therapies undertaken over a 2 or 3 hour period, this is an option worth considering when choosing a five star Spa.
Spa Treatments:
Spa Packages can combine a selection of treatments including – OPC/Antioxidant Body Polish, an Aromatherapy Full Body Massage, an Aromatherapy Body Salt Glow, an Anti–Stress Head, Neck and Shoulder Massage, a Siam Foot and Leg Massage, a Deep Cleanse Facial, the Ultimate Pampering Facial or a Nakalay Deluxe Massage, plus steam , sauna and Jacuzzi sessions.
SUKKO CULTURAL SPA & WELLNESS:
Sukko Spa in Sukko Cultural Spa & Wellness Resort, has had the honor of receiving a total of THREE world class awards in the last few years, which illustrates the level of quality and service to expect when visiting. Vastly considered the most popular Day Spa in Phuket, it is the world's first cultural spa with the unique Thai cultural service and architectural design inspired by the ancient capital of Siam, with three categories of rooms and 160 treatment beds, in more than 12,000 square metres of Spa area.
Spa packages are based on ancient philosophy descended through generations, and tailored to fit personal requirements, including weddings, honeymoons, outdoor sports etc. A complete service to nourish your happiness in everyway has been accommodated in the most relaxing and spiritually enriching manner that encompasses not only the Spas and its numerous treatments, but includes superior cuisine and traditional Thai cookery, elegant clubhouse and kid's club, traditional Thai martial art and exercise regimes and a range of rewarding activities and traditional Thai plays and cultural attractions.
Spa Treatments / Spa Packages:
Sukko Spa offers a variety of 40 spa packages from 2 to 4 hours, which have been carefully prepared by Sukko's certified Thai Herbalist with a specific purpose in mind, allowing guests to select the particular package required according to their individual life style.
Follow Us:  



Share This: