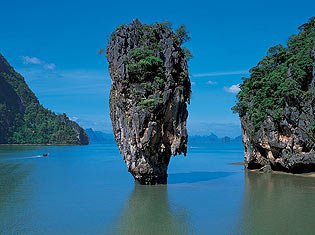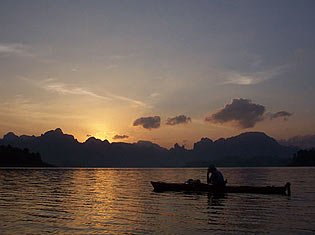 James Bond Island
The famous landmark of James Bond Island is located in Phang Nga Bay. Originally and locally known as Koh Tapu, meaning Nail Island in Thai, found fame through the 1974 Bond film "The Man with the Golden Gun". The film starred Roger Moore and Christopher Lee (as the three nippled arch–villain Scaramanga) but it was the scenic topography that helped make the film into a firm Bond favourite. It also turned the previously unknown Phang Nga Bay into a major tourist attraction. The popularity of this attraction and the spectacular surrounding area gets very crowded throughout the year, particularly in high season, but if this attraction is included within a day trip to other destinations, guests can make the very most of their time and enjoy all the aspects of the areas stunning beauty.
Both day trips and evening sunset cruises are available around Phang Nga Bay, aswell as combination tours including sea canoeing in the limestone caves, visiting the floating Muslin fishing village, stopping off at secluded bays and islands and a sunset return cruise.
If you are interested in visiting Phang Nga Bay and James Bond Island, contact our Tour Manager who will suggest available options for you to consider, along with arranging transfers to the departure point.
It is also possible to drive to Phang Nga and arrange your own private long tail boat rental to take you around the area and visit James Bond Island, without having to be part of an organised tour.
For further information on James Bond Island please review on-line details: http://www.phuket.com/attractions/james-bond-island.htm
Follow Us:  



Share This: